The gun world has evolved over a long period from the Gatling gun, to the rifles used in the great war, to the Glock 19 generation which now dominates the firearm world. Pistols have become popular over time because of the multipurpose cartridge that provides better performance thanks to advancements in technology.
The Glock 19 is the true manifestation of everything good about the pistol. From good shooting range to great ergonomics, we will give you a review of all Glock 19 generations to show you why it is the firearm you have seen the most.
Brief History
The Glock gun is a semi-automatic, polymer-framed firearm designed by Gaston Glock, an Austrian engineer. It was first used in the 80s by the Austrian police and military, and the firearm has since become the most popular pistol in the gun industry.
The polymer frame might be one of the features that surprised many, and the gun has done incredibly well through the years to become the most popular choice among buyers.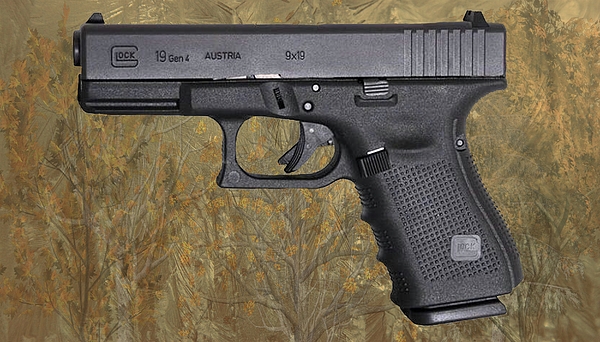 Image Source: pixels.com
The Glock has been used by duty officers, military, and private owners for years, proving the gun's reliability and versatility. The first Glock to hit the market was the Glock 17, and the family has reached Glock 19 gen 5, an incredible piece of a firearm.
Detailed Guide To Glock 19 Generations
As the firm has consistently refurbished, updated, and redesigned its handguns, you may have heard something about distinct Glock generations.
The Glock 19 platform is subject to gradual changes to make it better, and thus the different generations. So, if you're curious how the different Glock 19 generations differ, here is a detailed guide to each of them.
1. Glock 19 Generation 1
Glock handguns from the first generation (Gen 1) are distinguished by their smoother grips and finger groove-free frames. Glock employed the Gen 1 frame type and design from 1982 to 1988, predating the checkered grip patterns used in the second-generation Glock handguns.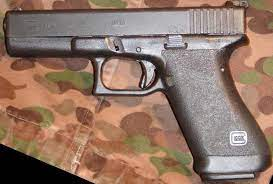 Image Source: glocktalk.com
This is an excellent option for concealed carry because of its small size and large magazine capacity. It is also simple to operate and conceal. Gaston Glock designed this first handgun for the Austrian military. These are the most uncommon of all Glock handguns, selling for a premium price on the secondhand market.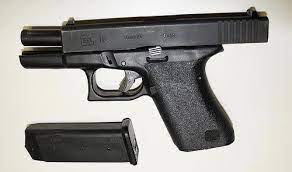 Image Source: reddit.com
Furthermore, the handgun may be readily disguised in an open carry holster combined with a well-fitting Glock 19 holster. This handgun seems accurate and dependable and may be taken to the next level with aftermarket attachments.
With a pebbled finish designed on the frame, a smooth dust cover, and basic Glock features like the trigger mechanism, Glock sights, and polygonal rifling, the original Glock 19 was a brutally simple pistol. It was a big hit with police agencies, armies, and early adopters.
Features
Caliber- 9mm
Magazine Capacity- 15+1 (flush) up to 33+1 (extended)
Barrel Length- 4.01 inch
Overall Length- 7.36 inch
Weight- 23.65-oz
System: CO2
Trigger Pull- Single-action (SA) trigger
Sight: Polymer sights
Slide-Lock Lever: Yes
Finger Grooves: Yes
Glock 19 Gen 1 Pros and cons
2. Glock 19 Generation 2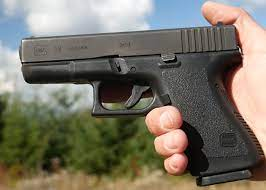 Image Source: popularairsoft.com
Many unskilled fans and even uninformed dealers will refer to the 2nd Gen as a "Gen 1." Two factors contribute to the uncertainty:
First, 1st Gens are uncommon, and many casual observers may have never seen one.
Many models were released in the 2nd Gen series, and some consider them "1st Gen" since they were the first of their kind.
The addition of checkering to the front and back straps, as well as a change in the texture of the side panels, distinguishes models 1 and 2.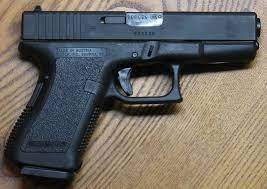 Image Source: glocktalk.com
In addition, all non-.380/9mm weapons were modified with a second locking block pin to avoid frame-breaking from stronger recoil spring in the second generation. It's vital to remember that, contrary to popular belief, the number of pins doesn't indicate generation.
When the Gen 2 Glock 19 was released, it quickly became a favorite among investigators and undercover officers. Due to its low profile, the Glock 19 Gen 2 is perfect for concealed carry holsters. For active service, the US special forces community currently uses the newer Glock 19s.
Features
Caliber: 9mm
Magazine Capacity- Standard 15
Barrel Length: 4.02 inches
Overall Length: 7.36 inches
Weight: 21.16 oz without magazine
System: Safe action
Trigger Pull: 5.5lbs
Sight: Polymer sights
Slide-Lock Lever: Yes
Finger Grooves: No
Glock 19 Gen 2 Pros and cons
3. Glock 19 Generation 3
All Glock pistols featured a blocky grip area until 1990. This Glock gen 3 boasts a specific grip region with finger grooves that make it simpler to hold the weapon, even if your hands sweat a lot. Furthermore, the G3 incorporates a thumb rest on each side of the handgun, enabling you to comfortably rest your hand around the weapon, even for lengthy periods.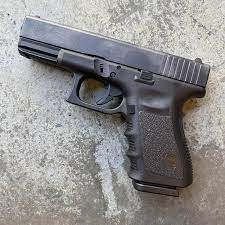 Image Source: boresightsolutions.com
Glock owners can now add spotlights, lasers, and other optical accessories to their firearms as the Gen 3 usually comes with a universal accessory rail. Not only is this useful for duty carry, but it also cemented the Gen 3's status as a beloved handgun among gun enthusiasts.
It also has an enlarged extractor or loaded chamber indicator that clearly shows whether or not the chamber is loaded.
Glock 19 Gen3 .177 Caliber BB Gun Air Pistol
Sale
Umarex Glock 19 Gen3 .177 Caliber BB Gun Air Pistol
15-Shot, .177 Caliber Bb Air Pistol
Powered By A 12-Gram Co2 Cartridge (Co2 Not Included)
Shoots .177 Caliber Steel Bbs At Up To 410 Fps
Integrated Weaver Rail For Easy Mounting Of Accessories
Fixed Glock-Style Sights And Officially Licensed Glock...
Shooters have been turning to BB guns, pellet guns, or airguns in recent years. This is because they can receive a lot of target practice with this model of pistol. They're also great for beginner shooters for a variety of reasons.
Image Source: gunnewsdaily.com
The Glock 19 Gen3 .177 Caliber BB Gun Air Pistol features a similar double-action trigger as the standard Glock pistol. The Glock-style sights also stand out in this gun model. However, it would have been better if they were adjustable. But still, they are pretty easy to use.
The magazine release is also a genuine Glock generation, and the 16-round capacity is ideal for repetitive shooting. It's not the most convenient clip to load, but that's to be expected with BB guns.
Features
Caliber: .177
Velocity: 410 fps
Overall Length: 7.25 inches
Magazine Capacity: 16
Barrel Length: 4.25 in
Weight: 1.85 Pounds
System: CO2
Frame Material: Plastic
Trigger Pull: Double action
Sight: Front sights: Blade, Rear sights- fixed
Slide-Lock Lever: Yes
Finger Grooves: Yes, at the front of the grip
Glock 19 Gen 3 Pros and cons
4. Glock 19 Generation 4
Glock produced the Gen 4 a year after the previous round of updates for their third-generation handguns. They had never truly recognized how fans classified their handguns based on generational advances up to that moment.

Image Source: wingtactical.com
All new Glock models with major design upgrades over prior Glock releases now have "Gen 4" laser-etched on their slides, making them instantly distinguishable even to non-Glock enthusiasts.
In addition, Gen 4 models include a number of unique characteristics that are easily apparent right out of the box. The Glock Modular Backstrap system has been added to the Generation 4 handguns. It features a set of interchangeable backstrap panels that may be used to tailor the pistol's fit to the shooter.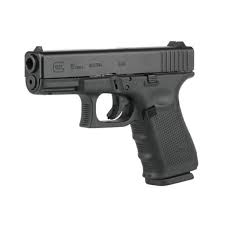 Image Source: palmettostatearmory.com
The Glock 19 Gen 4 is a no-frills semi-automatic pistol that is powerful and accurate. Three 15-round magazines and a speed loader are included in the bundle. A wire brush, four back straps, a gun lock, and the owner's instructions are also included. It comes with a protective case, as do all Glock models, which all gun fans enjoy.
Features
Caliber: 9mm
Magazine Capacity: 15+1
Barrel Length: 4.02 inches
Overall Length: 7.28 inches
Weight: 23.65 oz
System:
Trigger Pull- Double action (5.5lbs)
Sight: Polymer "U" dot configuration, rear adjustable (standard)
Slide: Lock Lever
Finger Grooves: Yes
Glock 19 Gen 4 Pros and cons
5. Glock 19 Generation 5
Front serrations and an nDLC coating distinguish the Glock 19 Gen 5. The Gen 5 has a semi-gloss deep black color thanks to the nDLC treatment. The ambidextrous slide lock lever on the Gen 5 Glock 19 was intended to compete for the Government control that the Sig M17 eventually obtained.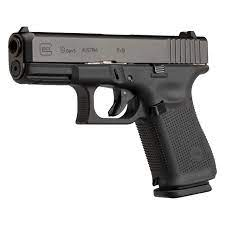 Image Source: atlantictactical.com
nDLC is a proprietary coating designed by Glock for its slides on the Glock 19 Gen 5's. This coating is said to give a harder and more durable finish than the previous generations. Serrations from the factor have been added to the Glock Gen 5.
The gun features the Glock Marksman Barrel, which has been tested and shown to be more accurate than the predecessor. It also featured a cutout in the frame that enabled your fingers to fall into a half-moon type hole for a while. However, they are no longer being manufactured with the half-moon cutout and no front serrations.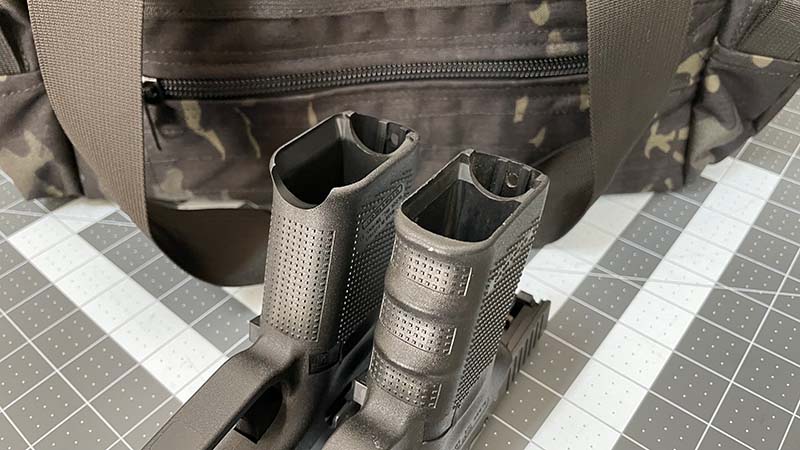 Image Source: lynxdefense.com
As you can see in the image, Glock's finger grooves have been a popular feature throughout the years, but they were ultimately eliminated on the Gen 5 models, most likely forever.
Glock 19X Gen5 .177 Caliber BB Gun Air Pistol
Sale
Umarex has become really good at manufacturing licensed imitation airguns, and the Umarex Glock 19X is the closest pistol you can get to the original. The frame has a lanyard loop, exactly like the original, and the markings are identical to the original.
Image Source: airgunmagazine.co.uk
The original 19X has a reversible magazine release mechanism, which works like the one on the Umarex BB variant. It has a similar weight and dimensions as the original, measuring 7.48" long vs. 7.44" for the original, and weighs 660 grams unloaded versus 704 grams for the 9mm 19X.
If you're looking for a new clock, then be sure to grab the Gen 5 because it is now the standard Glock. Want to find out more? Check out our detailed review of Glock 19 Gen 5.
Features
Caliber: 9mm calibers
Magazine Capacity: 15+1
Barrel Length: 4.02 inches
Overall Length: 7.28 inches
Weight: 23.99 oz.
Material: Black Melonite + nDLC coating
System: CO2
Trigger Pull: Double action
Sight: Polymer "U" dot configuration and rear adjustable
Slide-Lock Lever: Yes
Finger Grooves: No
Glock 19 Gen 5 Pros and cons
Frequently Asked Questions About the Glock 19
1. How Many Generations of Glock 19 are There?
Originally, there were five generations of Glock 19 but the first two are rare to find, even in the aftermarket. So, the last three generations, Gen 3(1998), Gen 4(2009), and Gen 5(2017), are the ones currently available in the market today.
2. How are Glock Triggers Measured?
The trigger is measured by the amount of weight required to pull the trigger when firing. There are multiple ways a trigger can be measured. For example, a trigger pull can be measured using actual weights or a resistance gauge. The gun needs to be cocked first before the trigger is measured.
If the trigger of a gun can pick up 500 grams without firing, the gun is good to go and can take part in the competition. Alternatively, a trigger pull gauge with a resistant spring is used to pull on the trigger to establish the weight needed to fire the gun. A good competition-grade trigger breaks between 2 and 5 pounds.
3. Is Glock 19 Compatible with a Threaded Barrel?
For multiple reasons, it is vital to have a threaded barrel fitted on your gun. First, you may want to attach extra accessories like a flash suppressor or a silencer to your gun. Second, you can get a factory-made threaded barrel on a Glock 19 gen 5. Finally, longer barrels boost the velocity of the muzzle, and a threaded barrel gives you the option of adding breaching mussels.
4. Is Glock 19 Good for a First Timer?
There is every reason to have the Glock 19 gen 5 or 4 as a first gun. The firearm is suitable for beginners because it is lightweight and comfortable to hold. The recoil is not too much, and your hands will not be hurt when practicing your shots.
You can practice tens of thousands of shots on the gun and still be okay to take some more. The gun has an ambidextrous design that makes it easy for a beginner to choose their shooting hand. The safeties are inside the gun, reducing the obstructions outside the gun and learning how to take aim and take clean shots.
5. Can I Use the Glock 19 Underwater?
Yes. However, firing a gun underwater is never a good idea because the sound produced is too loud, and you will feel as though someone took a shot right next to your ear. The loudness is not a very pleasant experience.
Water will greatly slow down a bullet, and you have at most two yards before the bullet is rendered harmless. The barrel will almost immediately fill up with water, and that is where the trouble begins. You can disassemble the removable parts and let the gun dry up.
6. How Many Bullets are in a Glock 19?
A Glock 19 has a standard magazine that takes 10 or 15 rounds at any time. The number of rounds allowed in your gun is subject to the state laws of your current state. Otherwise, you can have magazines with up to 40 rounds and still be good to go.
7. What is the Difference Between a Semi-automatic and an Automatic gun?
A semi-automatic firearm fires every time a trigger is pulled, while an automatic gun fires continuously until the trigger is released. The Glock 19 is a semi-automatic firearm, which is an advantage for many reasons.
Every Glock 19 review praises the gun for its popularity in competitions and law enforcement, mainly in controlled environments where precision and intentionality matter. Therefore, the Glock 19 is appropriate as a semi-automatic firearm.
8. What is the Difference in Glock 19 Generations?
Many people notice the grips as the first difference between the Glock 19 Gen 3 and Gen 4 models. The texture and depth of the Glock 19 4th Generation pistol are enhanced. The grips of the Glock 19 Generation 3 were a major cause of controversy among shooters since they were excessively big for tiny hands.
9. What is the current generation of Glock 19?
The latest Glock 19 generation is the Gen 5. Due to its smaller size, the Glock 19 Gen5 pistol in 9mm Luger is appropriate for a more varied function. By installing the various back straps, the new frame design and finger grooves still enable rapid customization of the grip to fit any hand size.
Final Take
The Glock 19 might have its shortcomings, just like any other firearm. However, the advantages outweigh the disadvantages.
The gun is the most popular pistol you will see around means that it will not be a hassle getting the right accessories to improve the gun and enjoy using it. You can change things like the striker spring of the Glock 19 and replace it with one that suits you best. There is a huge difference in your attitude when you make your own changes.
All Glock 19 generations are the best option for anyone starting because you can learn without the fear of spending a lot of money on magazines or accessories.
In addition, guns are perfect for self-defense or duty because of their convenient concealability. If you are considering buying a gun, Glock 19 is the most popular gun in the market and has dominated the industry since the '80s.
Featured Image Source: unsplash.com