We have come a long way to trust BB guns to be more than just toys; nowadays, these guns are also used as training guns which means they come with the most reliable features. If you are looking to get one, we will review the best BB guns in the market right now to make your buying process easier.
| | | | |
| --- | --- | --- | --- |
| | | | |
| | | | |
| | | | |
| | | | |
| | | | |
| | | | |
What is a BB gun?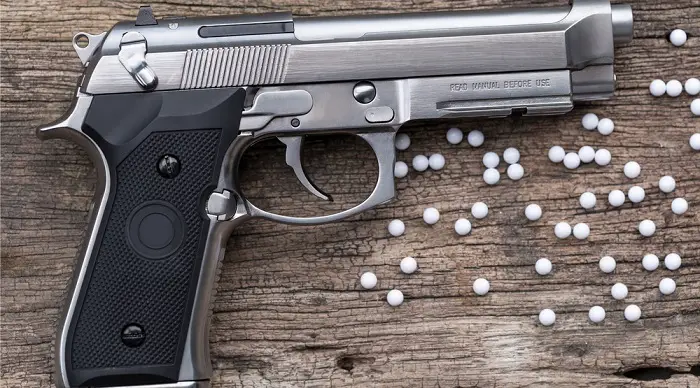 Image source: aboblist.com
BB guns are recreational guns used to shoot bullet balls, often in training or playing games. The BB term can refer to ball-bearing or bullet balls. The bullet balls shot using these guns are round, metallic pellets that don't need combustion or gun powder.
BB guns are recreational guns, which means they are less likely to cause bodily harm when used properly. That said, it is still vital to observe basic safety guidelines such as wearing a protective face mask or eyeglasses when shooting bbs, ensuring there is adult supervision whenever a child is using the gun and maintaining awareness of everything around a target when shooting.
When buying a BB gun, you will choose between various features from size, how the gun is powered, rates of fire, your budget, velocity, sights, calibers, and more. In addition, you can also choose between a BB pistol and air rifle while also deciding the purpose you are buying for; you can buy the gun to play fun games or train yourself or your child for hunting sessions.
That said, let us get into the best bb gun reviews so you can buy with confidence. Here are six BB guns to choose from now, with detailed reviews including in-action videos to inform your buying process.
1. Crosman DPMS SBR Fully Automatic BB Gun
Sale
DPMS Full Auto SBR CO2-Powered BB Air Rifle DSBR
FULL SIZE, REAL FEEL, DUAL ACTION - Durable synthetic design...
FUELED BY (2) 12-GRAM CO2 CARTRIDGES - Delivers speeds up to...
ADJUSTABLE STOCK - 6 adjustable positions make the gun easy...
25-ROUND DROP OUT MAGAZINE - Compatible with traditional 4.5...
REMOVEABLE POP-UP SIGHT AND ADJUSTABLE REAR SIGHT - To stay...
Are you looking for the best BB rifle for your professional shooting drills? If so, this Crosman DPMS SBR full-auto BB gun is your best deal. The black gun can fire 1400 rounds per minute, and you will also not need a lot of finger power to keep the shots going.
This powerful rifle is powered by two CO2 cartridges that are, unfortunately, not included with the purchase. The gun allows you to choose between different rates of fire, and a single selector switch will have you moving from the single, semi-auto, and full-auto modes.
Image source: amazon.com
This best bb rifle also comes with a rail space so you can customize features like red-dot sights and a flashlight. In addition, it is an easy-to-shoulder gun that will work with your best rifle sling.
Besides these top features, this gun is easy to handle and ideal for pest control. This video details how to use the gun for the best results.
2. Umarex Glock 19 Gen3 .177 Caliber BB Gun Air Pistol
Sale
Umarex Glock 19 Gen3 .177 Caliber BB Gun Air Pistol
15-Shot, .177 Caliber Bb Air Pistol
Powered By A 12-Gram Co2 Cartridge (Co2 Not Included)
Shoots .177 Caliber Steel Bbs At Up To 410 Fps
Integrated Weaver Rail For Easy Mounting Of Accessories
Fixed Glock-Style Sights And Officially Licensed Glock...
As a gun enthusiast, you will have heard of the Glock 19 as a legendary gun. Luckily, Umarex has the Glock imitation in this Glock 19 BB air pistol. The compact yet powerful handgun comes with a U-shaped rear sight plus white dot front sight so you can acquire your target with ease.
Image source: amazon.com
If you also need to illuminate dark areas, the rail system at the bottom allows you to attach a laser or flashlight. This black handgun carries 15 .177 steel BBs and is powered by a CO2 cartridge that is not included in the box. This video explains the features and how to use the replica Glock best:
3. Daisy Red Ryder BB Gun
This Daisy Red Ryder BB rifle is suitable for training and plinking. It comes with a durable plastic frame and a wood grain color, making it look like a real gun. In addition, it is a powerful bb gun that can fire 650 .177 steel calibers.
Image source: picclick.com
The kid-friendly BB rifle uses a level-action cocking mechanism, while a spring action propulsion mechanism allows it to generate a 350fps velocity. While it looks like a real gun, this BB rifle is a starter kit with iron sights for easier target acquisition.
Unlike other BB rifles, this Daisy Red Ryder comes with lots of practice ammunition, including paper targets, so you can start your practice out of the box. You can see how to set up the gun here:
4. Umarex Brodax .177 Caliber BB Gun
Sale
Umarex 2252109 Brodax Air Pistol .177 BB , Black
10-Shot, .177 Caliber Bb Air Pistol Revolver
Powered By A 12-Gram Co2 Cartridge (Co2 Not Included)
Shoots .177 Caliber Steel Bbs At Up To 375 Fps
Integrated Picatinny Accessory Mounts Make It Easy To Add...
Durable Polymer Frame With Metal Internal Parts
This Umarex Brodax model is your best BB revolver. It comes in a compact size and can fire 10 rounds of .177 BBs. It is a great bb gun powered by a 12-gram CO2 cartridge, though it is not included in the purchase.
Like other Umarex BB models, this gun allows you to mount a laser or flashlight using the integrated Picatinny rails. In addition, this gun comes with a grippy handle, so it offers a substantial feel in hand; plus, it is easy to pull the trigger for fast shots.
This revolver has pretty accurate iron sights, but you can easily mount scopes for better aims. If you run out of BBs during practice, you will also love that you can shoot pellets from this revolver.
Image source: amazon.com
Great for plinking, this revolver feels and looks real, and generates high amounts of energy with each shot, so it is best to maintain situational awareness when shooting at your target. Finally, it comes at an affordable price and has durable construction using a hard plastic frame and metallic inner parts.
5. Crosman Vigilante 357 Co2 Air Pistol
The Crosman revolver is another BB model you can use for plinking, fun gun shooting, or pest control. The BB revolver is compatible with both pellets and BBs, and it comes in durable body construction to withstand wear.
Image source: amazon.com
This BB air pistol is powered by CO2 and carries 6 BBs. The .177 caliber shots carry a velocity of 435 feet per second. When installing the CO2 cartridge, you will need to apply pell gun oil on the tip of the cartridge to create the best seal. The gun can shoot BBs up to 50 feet, but you might need to invest in a better scope to achieve the best accuracy.
Because this is a powerful BB gun, it is best only to allow your kid to use it under adult supervision. Here is a video to demonstrate how the gun's features work
6. Tanfoglio Witness 1911 Full Metal Airgun
This powerful pistol is your best bet for target practice. It features durable metal construction and is an excellent replica of the 1911 pistol. Available in black and black colors, this gun is CO2-powered and can shoot 6 BB ammo with a single shot.
Image source: amazon.com
As a .177 caliber gun, it is compatible with both pellets and BBs, and it can shoot as far as 50 feet away. This gun also features a blowback feature, so it recoils after every shot, thus offering the best shooting experience. In addition, the gun has a velocity of 320 FPS.
What Is the Main Difference Between a BB Gun and Other Types of Firearms?
For most people, it is quite hard to understand the differences between a BB gun and other firearms such as pellet guns, air guns, airsoft guns, and real firearms. If you are also confused, let us break down the differences below.
a) A BB gun vs. an airsoft gun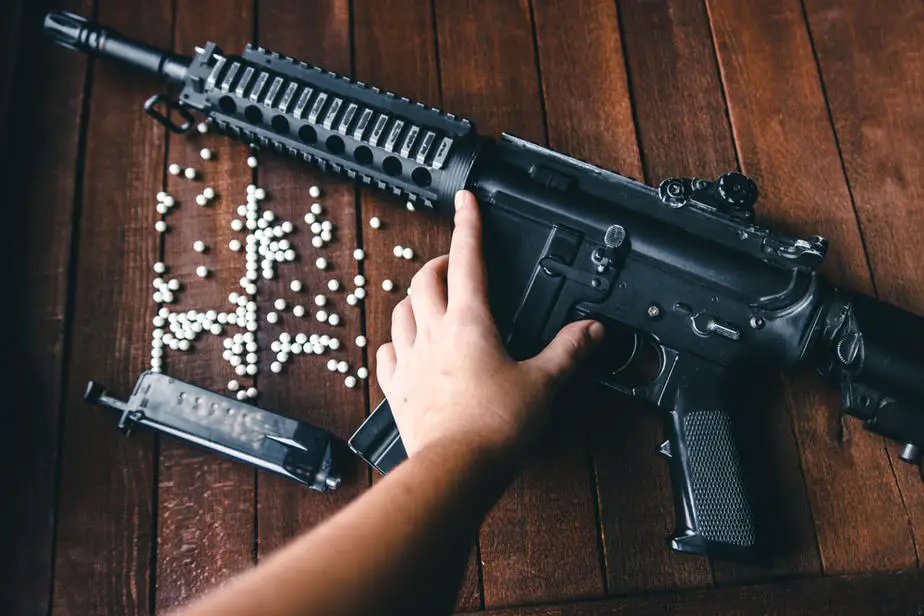 Image source: owntheyard.com
While each is an air rifle, their main difference is the projectiles fired and their ability to cause bodily harm. A BB gun will fire metallic BBs, while an airsoft rifle fires plastic projectiles. As such, a BB gun can injure a human or animal, while an airsoft gun is softer and less likely to cause bodily harm.
b) A BB gun vs. a pellet rifle
Image source: ncesc.com
Each is an air gun, but a BB gun differs from a pellet rifle in the projectiles used. For example, while you fire spherical ball-bearing beads (BBs) with the former, a pellet rifle will fire cylindrical projectiles that resemble a real bullet.
c) A BB gun Vs. A real firearm
Image source: npr.org
While the best bb gun might look like a real firearm, it is often the recreational copy intended for fun games or training. Again, the guns differ in that BB guns fire metallic beads, while real firearms fire bullets.
Factors to Consider When Buying the Best BB Guns
While BB guns lean more on the recreational side, you still need to observe a few factors before buying one. So let us discover them below:
a) The type of BB gun
Bb guns come in different sizes, shapes, and constructions. Often, these recreational guns are made of various forms of metal, but it is also possible to find some made of plastic and other softer materials. However, it is imperative to understand how the projectile you are firing is powered when buying your best BB gun. For that, choose between;
Spring-powered bb guns. These are also referred to as single-pump BB guns. They use a spring mechanism to propel the BB when you pull the trigger. In most cases, spring-powered BB guns are not very powerful, making them the ideal option for younger kids. In addition, these BB guns don't have the best maximum velocity for heavy use, and the spring construction is often easy to damage.
Multi-pump BB guns. These BB pistols are the better option when you need more velocity than you can get from a single-pump BB gun. They have a pneumatic mechanism that allows you to increase pumping power for each shot. They are still ideal for kids learning to perfect their aim and shoot. In action, you can use more hand strength to increase the amount of air you pump into the shell, which would offer more velocity and a better chance to hit your target.
CO2-powered BB guns. These BB guns use carbon dioxide cartridges to propel the BBs you shoot. However, unlike single or multi-pump pneumatic BB guns, these CO2-powered BB guns will be more powerful when new, but their velocity will decrease as the CO2 cartridge gelts lower. These guns are more expensive as you will need to replace the cartridges often, but the CO2 is the best propulsion mechanism for a semi-auto bb gun or full auto bb guns.
b) Maximum velocity
When buying a BB gun, air gun, or pellet gun, you need to understand how fast the projectile moves toward your target so you can hit them accurately. In terms of BB guns, velocity influences how far the projectile can travel to hit a target far away.
Before buying your gun, look for the manufacturer's velocity and high range ratings on the box or printed on the user manual.
c) Rates of Fire
When looking for a BB rifle and other types of traditional, air, ot pellet guns, it is imperative to understand the rates of fire you expect. A rate of fire is also called the firing rate or fire rate, then abbreviated as RoF. It refers to how fast a gun can fire a projectile or how many rounds of projectiles a gun can fire in a minute or second.
These firing rates are often described as rounds per minute (RPM) or rounds per second (RPS). When buying a BB pistol or rifle, look out for the manufacturer's rate of fire. The rates of fire you will either be;
Single shot. This BB pistol or other air pistols will fire a single shot any time you pull the trigger. You will need to manually pull the trigger, unlike with the following rates of fires.
Semi-automatic RoF. With a semi-automatic RoF, you will get a semi-auto bb pistol that will fire its amount of rounds without you having to cock the gun between firings. However, you will still need to pull the trigger until all the rounds are fired manually. With this RoF, you get a more powerful bb gun than single-shot BB guns.
Full-auto RoF. With the RoF, you get a full auto bb gun capable of firing rounds without you continuously pulling the trigger. When in action, you can simply pull the trigger once, and the gun will fire all rounds in the chamber, or continue firing until you release the trigger, thus making it the most powerful and accurate bb gun on the market. However, this type of gun is more suited to experienced shooters or people training for more accuracy in professional fields.
d) Sights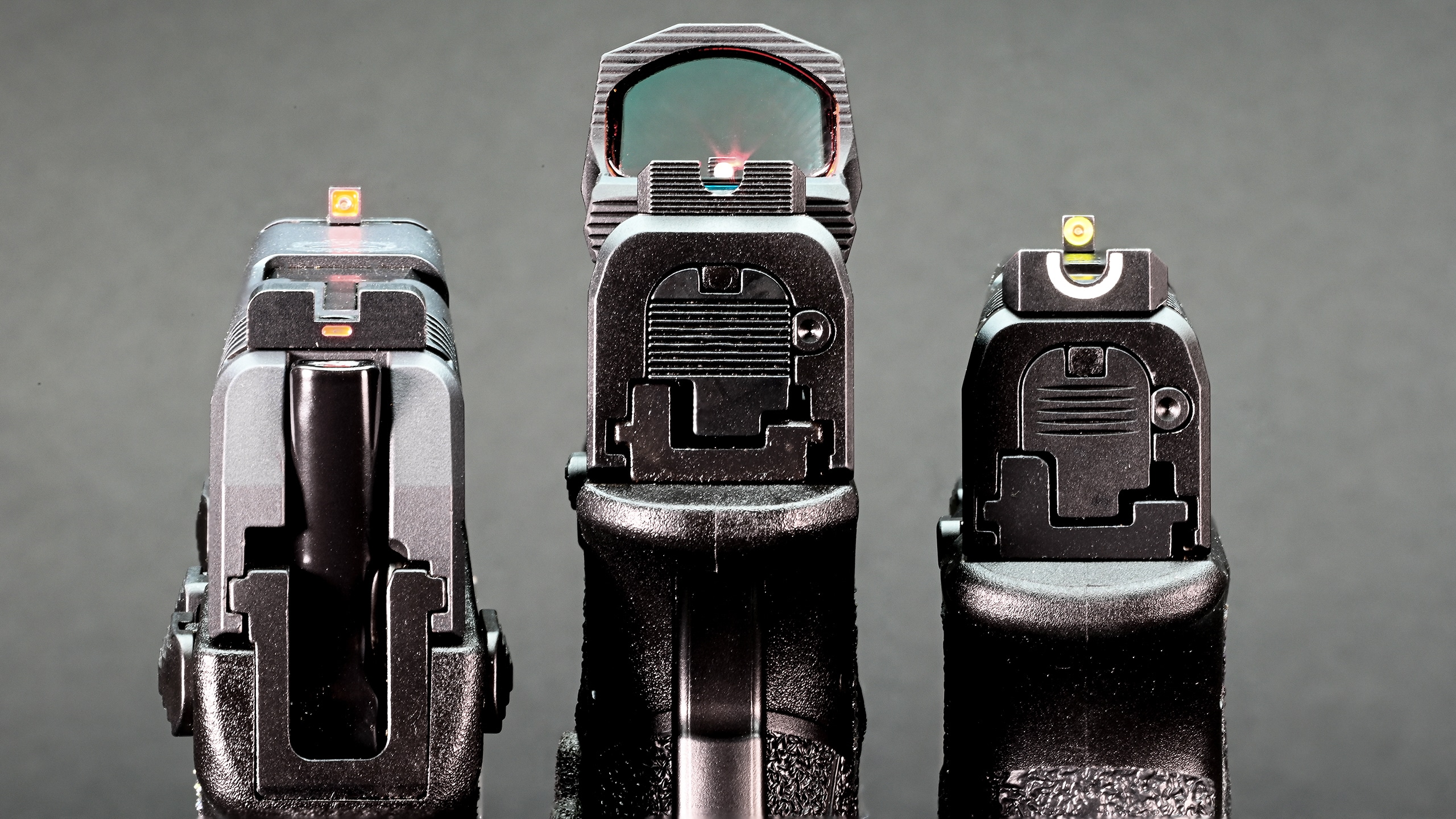 Image source: thearmorylife.com
You need optical devices, also called sights or gunsights, that enable easier target acquisition when firing any gun. BB guns will mostly come with iron sights, but it is also possible to use powerful scopes or buy the more advanced red-dot sights to use with your gun. Let's look at the gunsight options you can consider when buying a BB pistol or rifle.
Iron sights. Since BB pistols and rifles are recreational guns, most brands will install iron sheets as basic optical devices for easier target shooting. They are affordable front or rear sight installations, but they will not help you gain more accuracy as they will not magnify your targets.
Scopes. If you are looking for more accuracy, it is ideal to look for BB rifles with scopes. Scopes are better sights than iron sights as they enlarge your target to aim better. While scopes make a rifle more accurate in target practice, you will need some experience when shooting to account for wind direction and speed before pulling the trigger. In addition, you will also need to remain calm as shaky hands will affect your aim.
Red-dot sights. While BB rifles and pistols will come with scopes and iron sheets, respectively, it is harder to find a gun with red-dot sights. This sight technology makes the most accurate bb gun as a red LED dot guides your aim point. In addition, the sights are non-magnifying, which makes target acquisition easier and faster. The sights are expensive, but you can buy them separately from your BB rifle. In addition, they require experienced hands looking for fast quick shots.
e) Calibers
Understanding which projectiles you can fire when buying a gun is imperative. For example, a BB gun will fire .1777 projectiles from smooth bores in pistols or rifled barrels in bigger air rifles. However, you might also consider firing pellets when buying BB rifles, as BBs can contribute to faster wear. Pellets can be larger than .177 BBs, even in .25 caliber sizes.
f) Your budget
When buying the best BB pistol, you can find good options under $100, while more advanced air rifles can come under $200. Before buying, understand the purpose of the gun to estimate how much money you are willing to spend on it. For instance, a BB gun for kids does not need to be very expensive since they will either use it as a toy or outgrow it fast after training.
But, if you need a BB gun you can use for training and recreation, you might need to spend more to get one with the best features and durable construction.
Frequently Asked Questions About the Best BB Guns
a) Is a BB gun safe to use?
In most cases, a BB gun is ideal for fun gun training sessions for adults and kids. However, since the gun fires hard metal beads, it is best to avoid shooting directly at people or animals as that can cause bodily harm.
b) Is a BB gun good for self-defense?
This gun is not an effective self-defense gun, even if it can cause bodily harm. While the gun can scare away an attacker, it would jeopardize your safety if you were ever forced to fire the weapon.
Standard firearms generate tremendous amounts of energy, at least 800 pounds when fired, and this energy is what contains a threat. Unfortunately, the most powerful bb rifle will only generate about 1/3 of this energy, thus not ideal for containing a threat if a situation requires you to fire.
c) Is the air rifle legal?
The legality of air rifles varies from state to state, so it is best to read your State laws before buying one. For instance, Florida considers an air rifle an imitation rifle, meaning you can own the gun without problems. However, a gun that fires a projectile needs special permits in New Jersey as it is considered a firearm.
Additionally, while some states will not require permits to own a BB rifle by different citizens, convicted felons will mostly need to carry special permits to use an air gun.