In any tactical situation, people will need to carry many gear and chest rigs since they play a crucial role in success. To ensure maximum safety in any survival situation, you must be prepared at all times, which means you will need to train with the right gear. Chest rigs are among the most important parts of your tactical gear, and they play a crucial role in giving you access to the equipment you may need during an emergency.
Many chest rigs in the market have tactical specifications and varying features. However, chest rigs are sometimes interpreted to mean body armor or plate carriers, so it's important to understand what chest rigs are. So, let's dive in to get a better understanding.
What is a Chest Rig?
Chest rigs are the quickest way to reload your pistol or rifle, and this bag helps keep ammo around your chest to ensure it's readily accessible for any shooting or hunting activity. In addition, they are great for keeping your hands free while carrying a lot of ammunition and other tactical gear.
A good chest rig is meant to make your life easier by offering you as much customization as possible. A chest rig can be worn on your body and can also be used for mounting all gear kinds, from medkits and mag pouches to communication gear.
Tactical chest rigs can have MOLLE webbing and pouches where a MOLLE chest rig carries any MOLLE compatible pouches or gear. Although a chest rig doesn't provide ballistic protection, some people place chest rigs over their plate carriers to handle their tactical gear. Below, we have listed some of the best chest rigs in the market. Read on.
| | | | |
| --- | --- | --- | --- |
| | | | |
| | | | |
| | | | |
| | | | |
| | | | |
1. Condor Recon Chest Rig
Condor Recon Chest rigs are among the best chest rigs in the market for their affordable price-to-value ratio. This chest rig is very popular in airsoft circles because it's sturdy enough and can be used for real steel. It checks all the features you will be looking for, and it also fits well and is comfortable enough for a full day.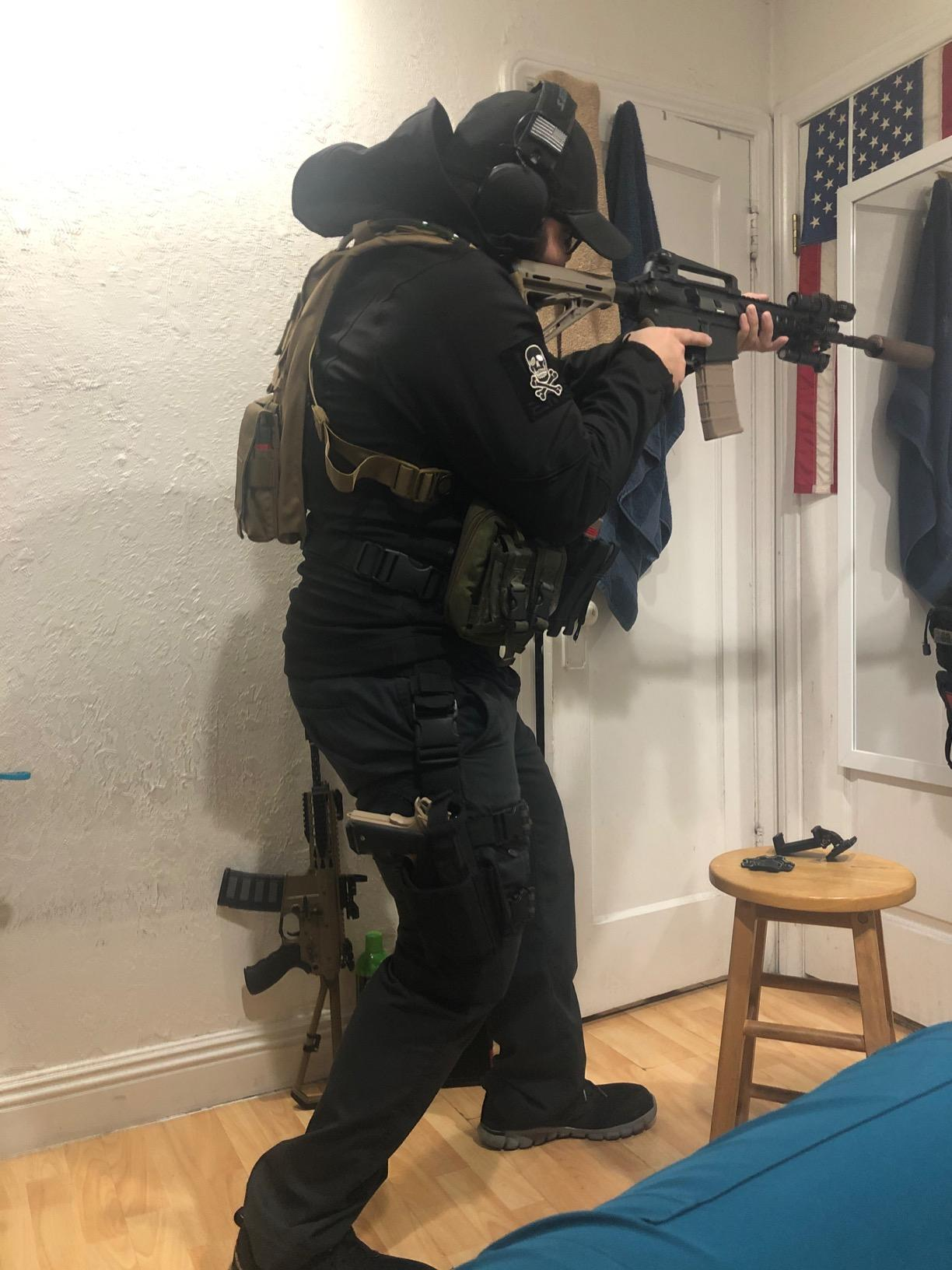 Image Credit: Condor Store
Condor Recon Chest Rig has an outer MOLLE and elastic straps that give you several options to tack on your gear and several built-in storages. While most chest rigs are known to take up a lot of storage space, this brand is different and features a design called stacker pouches. Thanks to this design, you can adjust the height of all your magazines when storing them, and you won't have to struggle with the other ones when trying to get a new magazine.
In addition, it comes in various colors giving a buyer freedom to choose according to their purpose. It also offers a large capacity for your extra gear and mags. However, it costs more than other brands on the market, but with the high comfort level it offers, it qualifies as a great deal.
2. Condor MCR6 Tactical Rapid Assault Chest Rig
Condor MCR6 tactical chest rig is one of the best molle chest rigs to get started, and it qualifies as a basic rig that will benefit everyone. The chest rig sits in action and holds up quite well, making it an affordable way to start experimenting and boost your chest rig game.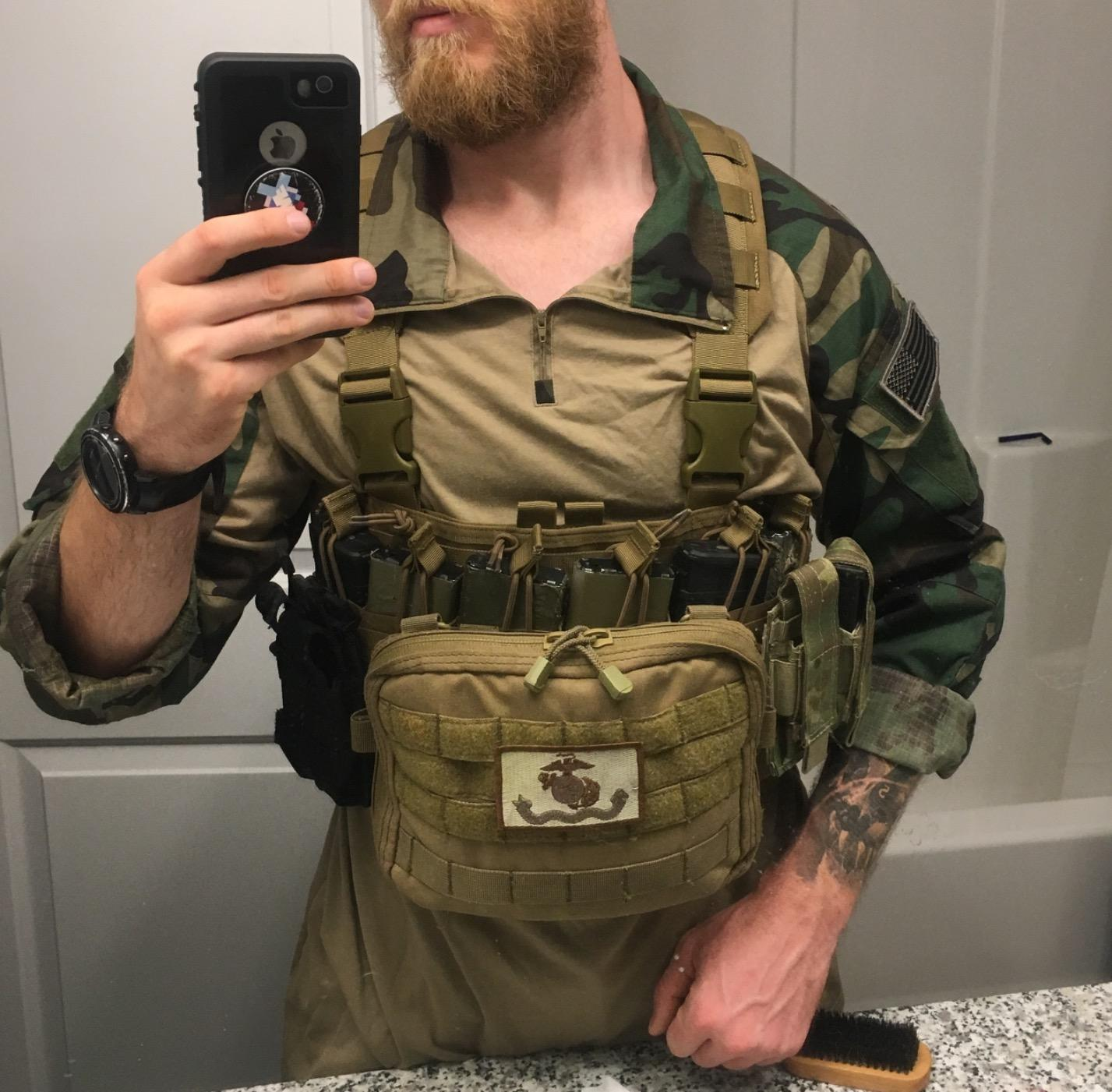 Image Credit: Condor Store
It is one of the best tactical chest rigs with a unique magazine layout where you will be getting six pistol magazine pouches that are spread out evenly. The layout is intuitive, and a user can easily get used to it, unlike stacked mag pouches. The Condor rig will fit since it's adjustable, and if you are on the smaller side, you will need to pull the straps tightly.
The chest rig is built well with stitching that lasts, and it has a MOLLE webbing on its sides and in front of any additional gear you may need. Condor MCR6 tactical chest rig is a top Condor Recon chest rig that is affordable and will give you value for your money.
3. Helikon-Tex Range Line, Training Mini Rig
Sale
Helikon-Tex Range Line, Training Mini Rig Shadow Grey
Universal, removable, adjustable H-strap harness. Three...
Double Rifle Magazine Insert with two AR/AK magazines...
Four fixed pouches for handgun magazines, multitool,...
Height-adjustable pouch flaps with position markers. Two...
Spacious central Cargo pocket, capable of taking Pistol...
Helikon-Tex mini chest rig stands out thanks to the H-strap harness and three Velcro panels meant to be used for customization. It has everything you need when looking for a ready-made chest rig since it has included all the pouches. The four large rifles and four pistol tools and pouches will sort all your needs.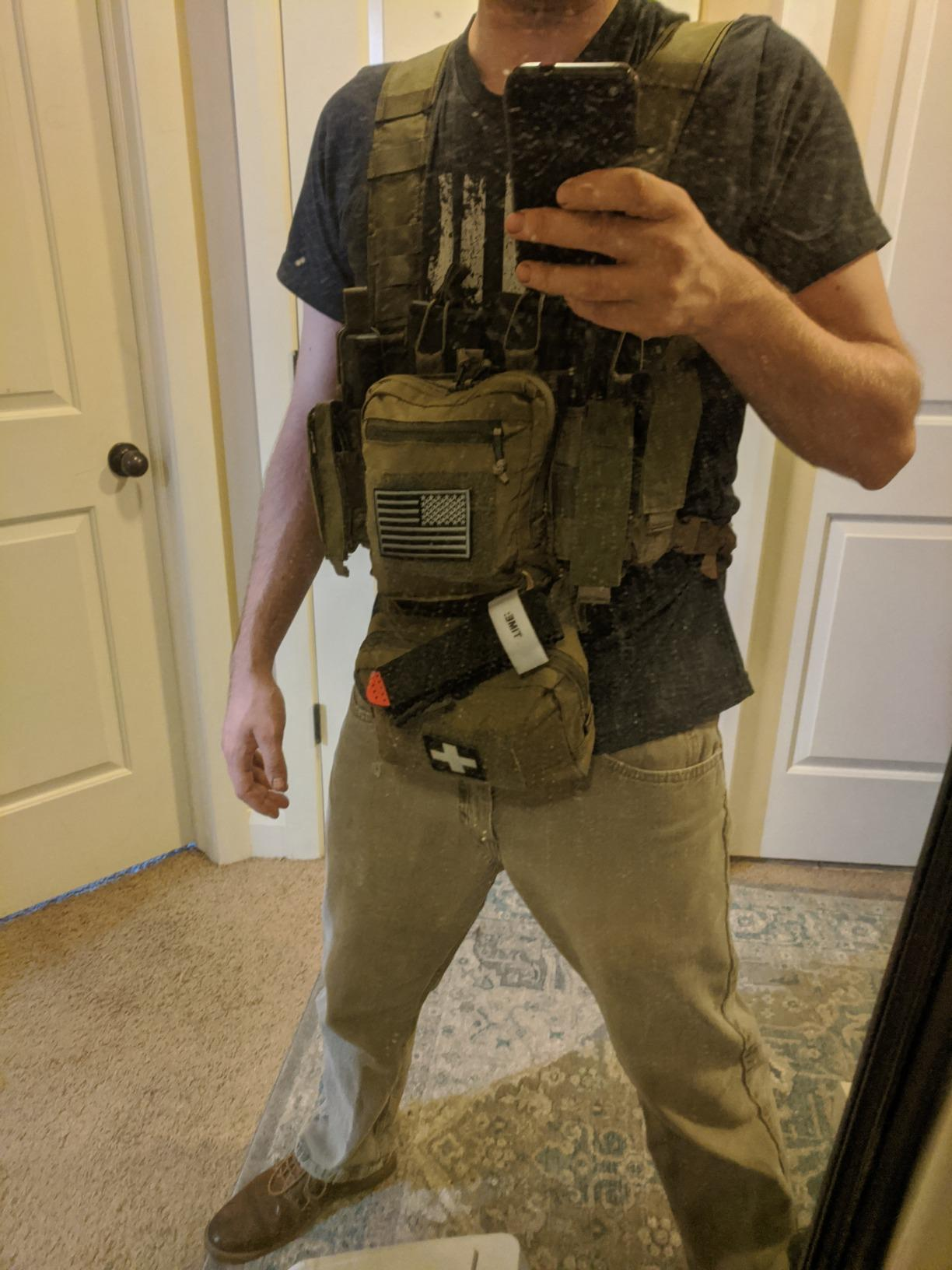 Image Credit: Helikon-Tex
This chest rig will keep your mags safe and secure while allowing the storage of other accessories meant for a convenient tactical mission. Unlike other entry-level chest rigs, this chest rig has two large middle pouches, which you can use to store any extra gear you will need besides the rifle mags. In case you need extra space, the rig has MOLLE webbing attachments which you can use to customize with your pouches.
Helikon-Tex mini chest rig is the perfect spot between cheap and expensive professional rigs. It is a perfect choice if you want a versatile rig that doesn't need customization and tweaking before you use it. Also, it's one of the best chest rigs you can find for AK and AR magazines.
4. RAPDOM Tactical Molle Chest Rig
Sale
This is one of the best tactical chest rigs if you have an AK because other chest rigs won't fit the large AK magazines. It has a great build quality and holds everything together well thanks to the good nylon and strong stitching.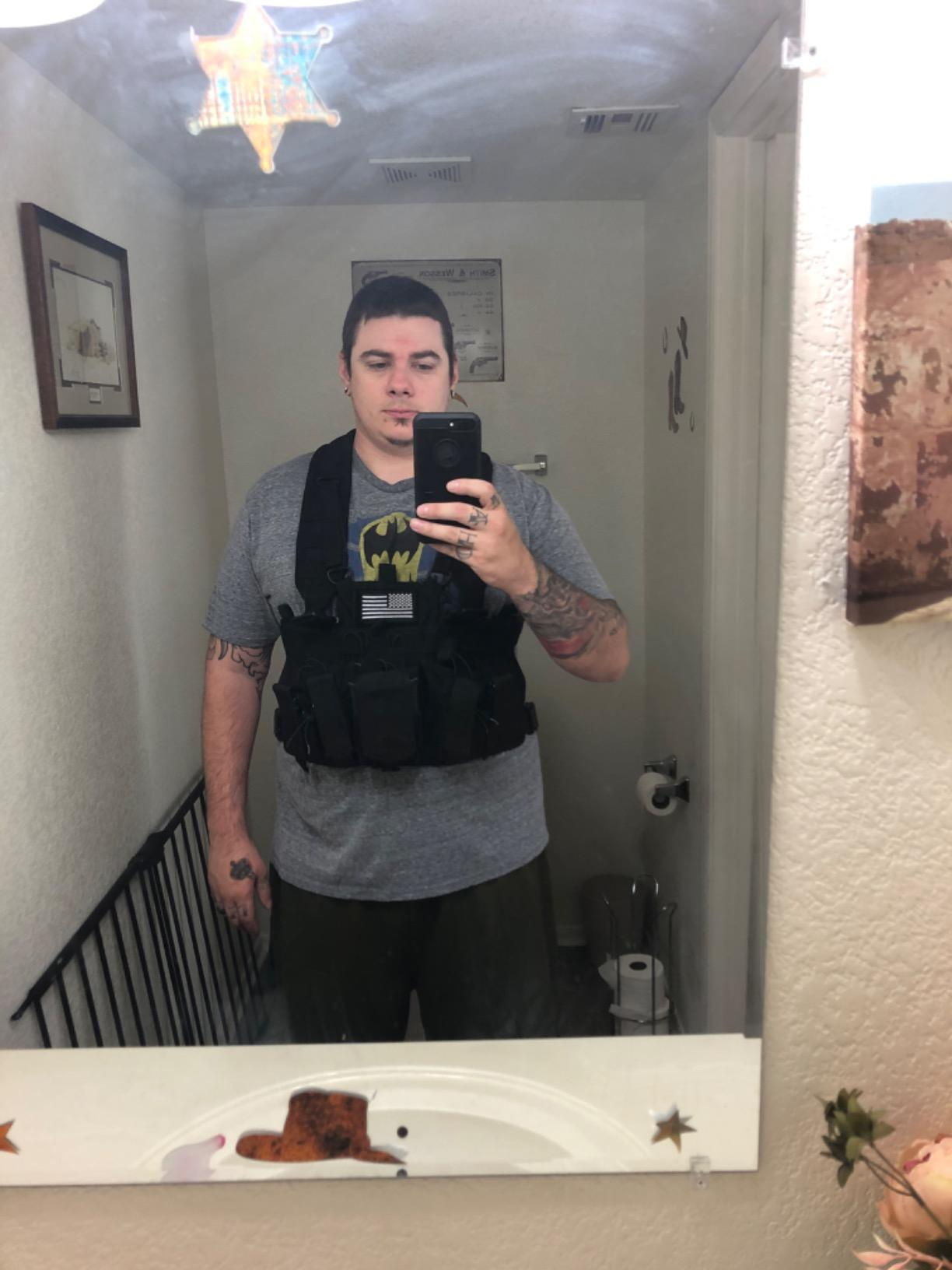 Image Credit: RAPDOM
However, the rig is made in China, and the cheap plastic bits might need replacement with time, but the quality is generally good, and there are no online complaints. Also, there is no hydration bladder pocket with this tactical vest.
RAPDOM Tactical Molle Chest Rig is the best tactical chest rig if you want value for money and if you own an AK since it is readily accessible for hunting and other activities.
5. Blue Force Gear Ten-Speed Chest Rig
BLUE FORCE GE Ten-Speed Chest Rig, Multicam (TSP-CHESTRIG-MC)
4 Ten-Speed mag pouches can fit smoke grenades, flash bangs,...
Fully adjustable – can be worn over clothes or under a...
Connecting strap in the rear acts as an emergency drag...
Inside hook and loop fastened map/document pocket measures...
Magazines and accessories not included
Blue Force chest rig uses mag pouches integrated into a placard with a 3×3 MOLLE on all sides to add extra mag pouches. This rig has a low visibility profile thanks to the elastic mag pouches that make it suitable for hiding large shirts or undercoats. This elasticity also means the rig can be used as a medical pouch for medical supplies or communication equipment if the ammo is not needed.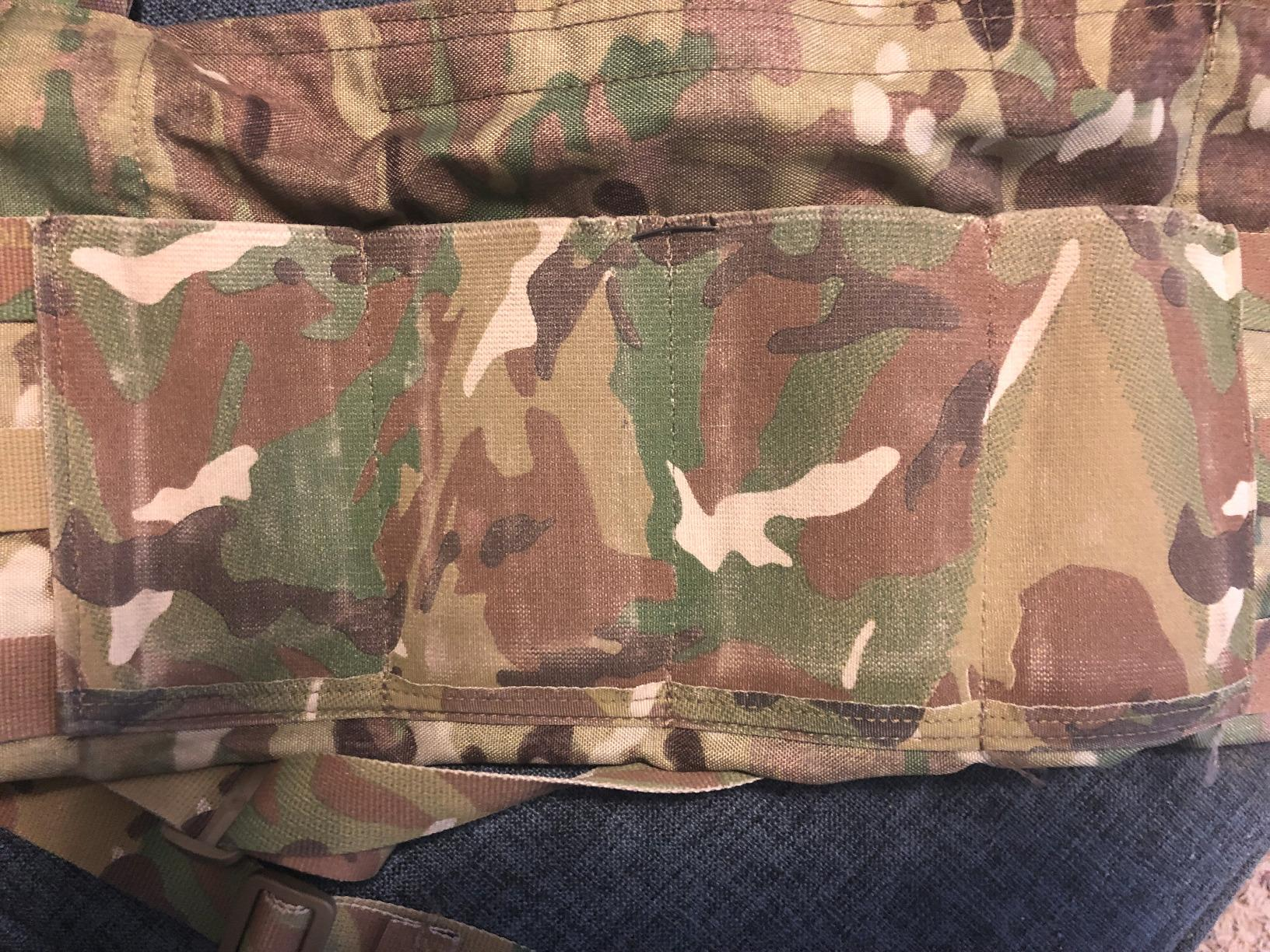 Image Credit: Blue Force Gear
The pistol pouches use the Ten-Speed elastic material, which clings to the magazines with outstanding retention, but it won't be difficult to retrieve a magazine. The rig's center has a hook and loop map pouch for easy access. While this chest rig can be worn over body armor or plate carrier, the placard is not SwiftClip-compatible.
The Blue Force chest rig is a great option for shooters looking for something simple yet effective to carry your mags and extra gear. The rig is suitable for running and gunning, and it will be your best choice if you want a quick plug-and-play option that will cover many firearms.
Why Are Chest Rigs Important?
Chest rigs have been around for many years, from old versions to new versions seen today. Chest rigs are mostly used in non-combat situations such as disaster relief missions and peacekeeping.
Whether going for a rescue mission or hiking, chest rigs are beneficial, and some of the reasons include:
a). Breathability
Plate carriers and body armors are mostly uncomfortable, but chest rigs are light, breathable and cool. They also function well in humid climates.
b). Compatibility
Chest rigs are designed to merge with other gears easily, and they can route with backpacks, rucksacks and body armor without trouble. They make your hikes convenient and make your missions hassle-free.
c). Convenience
While riding a jeep, consider wearing backpacks and body armor; while these are donned, you can't expect to wear a seatbelt. However, you will conveniently and easily access your goods at the back and wear your seatbelt, and it will not compromise with the steering wheel and airbags.
Chest rigs are used in various functions and popularly in medical, military, rescue missions and photography. This is thanks to their design, lightweight features and the ability to hold various ammunitions and tools.
What are the Types of Chest Rigs
Before choosing the best chest rig, you will need to know the types of chest rigs available in the market and their purpose. The chest rig type suitable for you will depend on your specific requirements and needs.
a). According to the Make
1. Plate Carrier
Image Credit: pinterest.com
This is a type of chest rig meant to hold ballistic plates. It is often used by military personnel and law enforcement who need additional protection against gunfire.
2. Tactical Vest
Image Credit: armorholdings.com
A tactical vest is a chest rig mostly used by military personnel and law enforcement. It is meant to hold gear and equipment such as firearms, tools and ammunition.
3. H harness
Image Credit: fleetsafety.com
An H harness is a chest rig type worn over the shoulders and is meant to distribute the equipment and gear's weight evenly across the body.
4. Battle Belt
Image Credit: offgridweb.com
This type of chest is worn around the waist and is designed to hold gear and equipment easily accessible in combat situations.
b). According to the Purpose
1. Bare Chest Rig
This chest rig is the most basic design, and it has a panel with a MOLLE webbing attached to it. They can be larger panels or small chest placards that will wrap around the torso and look empty or bare since it doesn't have any pouches.
These bare rigs will give a user more customization where you can change the placement of pouches and choose the type of pouches on the rig. However, his style can be too bulky, especially when attaching the pouches to other pouches.
2. Concealable Chest Rig
Traditional rigs are meant to be worn over instead of body armor, so there has been an increased need for concealable rigs. These rigs are meant to be worn under large jackets or shirts, and they will keep your gear tight against your body.
3. Purpose-Built Chest Rig
These rigs are the opposite of bare rigs, with pouches sewn directly on the chest placard and other pouches. It helps keep the gear mounted high and tight on your body and into the rig. Since the pouches are sewn on, this rig style hasn't much customization. However, this can be solved by using pouches and applying creativity to achieve your goal.
Which One is Better Between the Chest Rig and a Plate Carrier?
Image Credit: rekrutasgshop.pl
Chest rigs are preferable if you want to store tactical gear such as tools and mags. While chest rigs give less protection than plate carriers, they weigh less and offer better mobility.
However, if you want torso protection from rifle fire, you should use a plate carrier as it can comfortably hold a piece of armor.
Factors to Consider Before Purchasing the Best Chest Rig
When looking for the best chest rigs on the market, there are several things you will need to consider, including:
1. Color
The color usually matters the most when you want to hide your presence while on a mission, as camouflage patterns blend well with plants and trees in your surroundings. This color also works well for military efforts.
Image Credit: pinterest.com
Other low-profile colors include coyote brown and olive drab, which suit most situations, whether executing a tactical mission or you are in an Airsoft game. When going to a forest or a shooting range, avoid black because it sticks out in the surroundings, but also desert camo or flames are unsuitable for Alpine environments.
Whatever your choice, ensure that it fits the environment in which you intend to use your chest rig.
2. Material
Most chest rigs on the market are made of nylon fabric, specifically Cordura or ballistic. Ballistic is the heavier of the two materials, and it has more tensile strength. The denier count of the ballistic nylon ranges will range from 840 to 1050 and appear to have a small finish.
Image Credit: norsegear.com
On the other hand, Condura is popular for its high abrasion resistance, ranging from 500D to 1000D, and its canvas-like appearance and feels. This makes it more casual to use. In addition, both the fabrics are heavy-duty and therefore bother materials are durable enough to be used in tactical chest rigs.
However, ensure you choose a higher denier count to guarantee more strength. Besides the fabric, check the zippers to ensure they are heavy-duty to allow constant abuse.
3. Weight
Chest rigs are lightweight than body armors, but some chest rigs are heavier than others. Excess weight on a heavy chest rig can cause poor performance, backaches and discomfort.
Suppose you are in the military; your chest rig will have spare pistols, rifle magazines, knives and many more such as hydration, grenades and other essentials.
Too much weight on the chest rig will create an unbalanced load which will strain your lower back, eventually causing backache. As much as you want a lightweight chest rig, you need to pick a chest rig with enough webbings and pockets to carry the right amount of gear.
However, choosing a chest rig with many pockets may make users fill them with items they don't need. This could add to the general weight of your chest rig. Generally, choose a chest rig with enough pockets to serve your needs, forcing you only to have the things you need and remove the ones you don't.
4. Safety and Durability
A durable chest rig will save a lot of money in the long run, so you should always choose one tough that will offer you maximum durability and safety. No matter how difficult your activities are, your chest rig should be able to protect you and your ammunition intact.
Conclusion
Chest rigs are ideal for carrying gear, so long as you don't attempt to overload them. If a chest rig should have any feature, it should offer support and secure your gear. Since there are plenty of gear companies on the market today, we have simplified your search by listing the best options above with the pros and cons.
Image Credit: offgridweb.com