Here's an all new shotgun from the folks at Remington. It incorporates many features of the Versa Max but with some interesting improvements.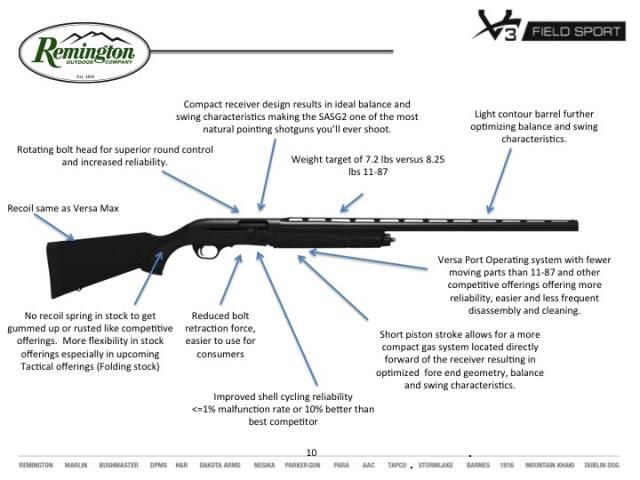 "The new 12-gauge V3 handles both 2 ¾- and 3-inch shells using the compact SASG2 Gas System.

This gas system places the gas ports directly in front of the receiver; this not only provides a self-cleaning action, but it changes forend design to produce a central, between-the-hands balance point that Remington claims promotes more instinctive point-and-swing characteristics. It also allows the use of a more compact receiver.

Additional features include a rotating bolt head for superior round control and increased reliability, a reduced bolt retraction force, and a buttstock that does not feature a recoil spring (and thus allows more flexibility in buttstock design, including upcoming folding tactical stocks).

A light-contour ventilated rib barrel further optimizes swing characteristics. All models use Rem. Choke 2 interchangeable choke tubes, and feature a 14 ¼-inch length of pull.

The V3 will be available in the following configurations:

The V3 Field Sport 12/28 RC VT SYN-BLK ($895) features a black synthetic field stock, a 3-round magazine capacity, and a 28-inch barrel.

The V3 Field Sport 12/26 RC VT SYN-BLK ($895) is the same gun with a 26-inch barrel.

The V3 Field Sport 12/28 RC VT SYN-BLK ($995) offers the Mossy Oak Shadow Grass Blades finish on the receiver and stock.

The V3 Field Sport 12/26 RC VT SYN RT APG ($995) features a 26-inch barrel with a Realtree APG finish on the stock and receiver.

The V3 Field Sport RC VT ($995) is available with a satin-finish walnut stock in 26- and 28-inch barrels."

Billed as the platrorm to carry Remington into the future, the V3 will reportedly be offered in many other configurations and gauges.
I expect it will be well viewed and reviewed at the 2015 SHOT Show later this month.
Look for more information on the V3 as it becomes available.