Celestron, LLC
2835 Columbia Street
Torrance, CA 90503
Phone: 310.328.9560
www.celestron.com

A Quick Overview
ED Objective Lens: Minimizes chromatic aberration, accurate color reproduction, increased resolution and contrast.
XLT Coatings (Fully Multi-Coated Optics): Proprietary XLT lens coatings maximize light transmission through the optical path for brighter images and increased resolution and contrast.
Magnesium Alloy Body: This material is strong and durable, but lighter weight than traditional aluminum alloy housings.
Dual focus: Course focus for rough adjustment and fine focus for detailed adjustment. New quicker focusing mechanism.
Rotating tripod mount with detents: Place the orientation of the eyepiece in the best viewing position for application.
20-60x Zoom Eyepiece: Adjustable magnification, giving you a wide field of view for general viewing and detailed up close viewing when needed. Twist-up eyecup for correct positioning of the user's eyes for comfortable viewing with or without eyeglasses.
Standard 1.25" eyepiece mount allows a variety of astronomical eyepieces to be used with the spotting scope.
T-adapter ring included for easy 35mm/digital SLR photography.
Sliding sunshade with sighting line keeps out stray light and keeps moisture off of the objective lens.  Sighting line aids in finding the subject you want to bring into view.
I am going to get right to the point very quickly. If you are in the market for a spotting scope, you really need to take a look at Celestron spotting scopes.

I recently completed an evaluation of the "Regal M2 80ED" and it is one great spotting scope. I received the M2 just before traveling to Edgefield, SC for the World Championship Still Target Shoot.




Each year, the best of the best in this sport gather to compete for the championship title. This sport grew out of turkey hunting and while shotguns are used, they are shot more like rifles. Contestants shoot at a 3" circle, 40 yards away using no rest to steady the guns. Most are guns equipped with telescopic sights.
It becomes very important for each shooter to see exactly where he has hit the target and for that reason, spotting scopes are abundant and many brands are represented.




I set up the M2 so that anyone and everyone would be able to use it. It is a striking looking product and it did not take long for shooters and spectators to make their way to it and begin using it.
Before long, there were people waiting to use it in preference to the other spotting scopes that were there. Several shooters who had brought their own spotting scopes left them to use the M2. Many times, you literally had to wait in line to have an opportunity to use it. Everyone commented on the clarity and ease of use.

At one point in the event there were several children who wanted to use the scope and we accommodated them by lowering the tripod so they could look through it. I was pleasantly surprised to see that they intuitively adjusted the focus to suit them and listened as they started to count those tine holes in the targets 40 yards away.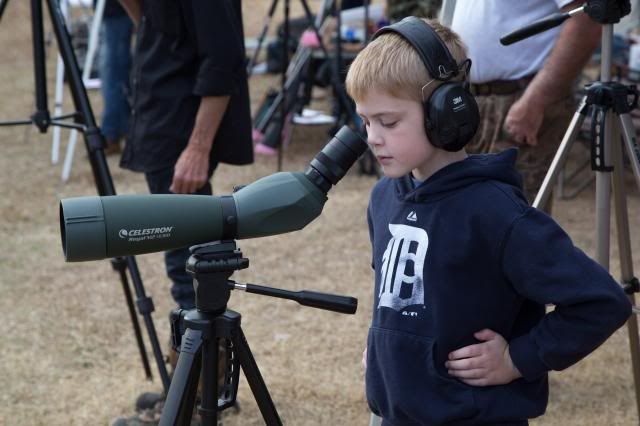 When I returned from that trip, I was able to take the M2 to my range and spend some quality time with it.
It was very easy to see why everyone at the World Championship liked it so much. The clarity is equal to any spotting scope I've ever used and superior to most, regardless of price.
It's a very easy scope to use and frankly, it just looks great. It stands out from the crowd and attracts immediate attention.
The Celestron Regal M2 80ED spotting scope gets my "Best of the Best" rating and that's not something that I give out often. This one is a real winner.
To see the Regal M2 80ED spotting scope and other Celestron products, please visit www.celestron.com
To read more "Product Test" articles, please visit www.allaboutshooting.com
Photos by Matt Lindler/NWTF