It's not everyday that I see a product perform exactly as advertised but that was the case with the new Hevi-Duty home defense shells from Environ-Metal, the makers of Hevi-Shot products.
In this part of my evaluation of this shell I examine the danger of over penetration in a residential setting.
I used 5/8" drywall for the interior portion of the wall,  5/8" fiberboard for the exterior portion and used drywall strips to separate the 2 portions of the wall.  I installed aluminum siding on the exterior.  I did not however place any insulation batting between the walls that would normally be there, nor did I use any Tyvek wrap on the outside under the aluminum,
I fired a shot at the center mass of the wall from 7 yards per protocol for this type of test. I used a Remington 870 with a 18.5" cylinder bore barrel and an ATI Scorpion Tactical stock, a somewhat typical set-up for a home defense shotgun.
All 30 pellets hit the board in an even pattern of about 18" and penetrated the inside wall. The pellets that penetrated the interior wall "dimpled" the fiberboard wall and then turned to dust. None penetrated the exterior. When I removed the aluminum siding, it was very clear that no damage whatsoever had been done to the exterior wall. Please see pictures below.
I should also add that there is really no discernible recoil from this load fired through the 870. That means that follow-up shots. if necessary. would be easily accomplished. That is very positive since it may be necessary to fire more than one time in the event of multiple intruders, etc.
The low recoil of this load is also very positive when training a new or inexperienced shooter.  They would not be frightened by excessive recoil and would easily gain confidence in their ability to handle a home defense gun.
Lastly, I chose the 870 with the ATI Scorpion Tactical stock because it is adjustable to fit any size shooter and has the best ergonomics I've seen on any tactical stock. The ATI stock and Hevi-Duty HD shells is a great combination and one that I would recommend anyone consider for home defense.
To learn more about Hevi-Duty shells and other Hevi-Shot products, please visit http://www.hevishot.com and to read more "Product Test" articles, please visit http://www.allaboutshooting.com
The interior wall before the shot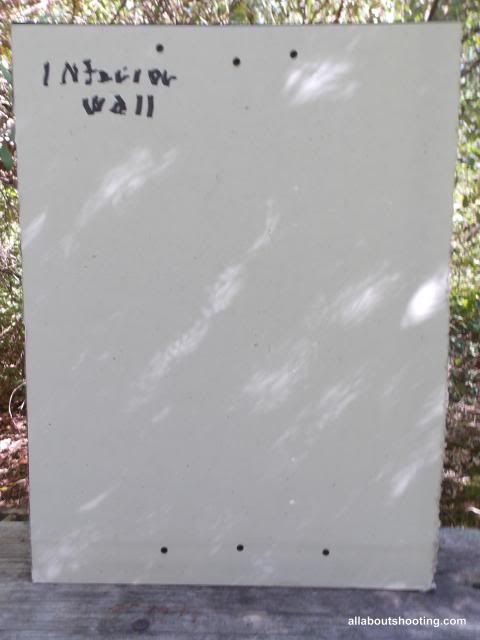 The outside of the wall with aluminum siding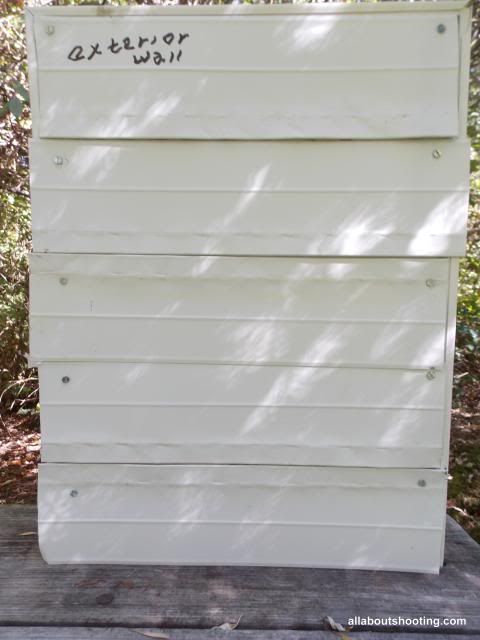 The interior wall after the shot

Through the interior wall & then stopped by the outer wall