Garrett Industries
136 15th St.
Woodville, TX 75979
http:www.//gimagclip.com/
garrett@giholsters.com
713.828.7812
One of the most pleasant aspects of what I do is that I often have an opportunity to evaluate new products that manufacturers make for us shooters. Many times that involves a new gun, shooting accessory, ammunition or some other product that readers of http://www.allaaboutshooting are interested in and want to know more about.

A few months ago I evaluated a new shotgun…sort of, if you consider a "wheel gun" that can shoot .45 Colt cartridges and .410 shotshellls a shotgun. Of course I'm referring to the new Public Defender Ultra-Lite from Taurus. What a gun! It's the first of the "Judge" series that was actually made to be used as a carry gun. It's light, as its name implies and loaded with whatever choice of ammo you want, it's a devastating personal defense tool.

The only problem I had was how to carry it. When I began my evaluation the Public Defender Ultra-Lite had just made its debut and there were just no holsters made to optimize its potential as a carry gun. To the rescue came Ron Garrett from
Garrett Industries
, an innovative and well known maker of high quality holsters.
I had a very interesting and informative conversation with Ron in which he gave me some background on his company, how he makes his holsters and the fact that he'd just been working on a model of his
"Silent Thunder"
line for the new Public Defender Ultra-Lite. After asking a few questions about how I intended to carry, belt sizes, etc. he said he could have one ready for me in just a couple of weeks.
When you visit Ron's site, and I recommend that you do that, you'll immediately sense the quality of his work and that he has a holster for just about any handgun and for any possible application. I also liked the fact that my
Silent Thunder
Kydex holster would be leather lined, a process that Ron perfected, and that's no small feat in itself.
I was in for a surprise when my holster arrived. It had a "running mate", an inside the belt model for the Public Defender that Ron had christened
"What the Tuck"
. I had not really considered an inside the belt model but the more I looked at it the more sense it made. I decided to set that one aside for a bit however and try the more conventional
Silent Thunder
model.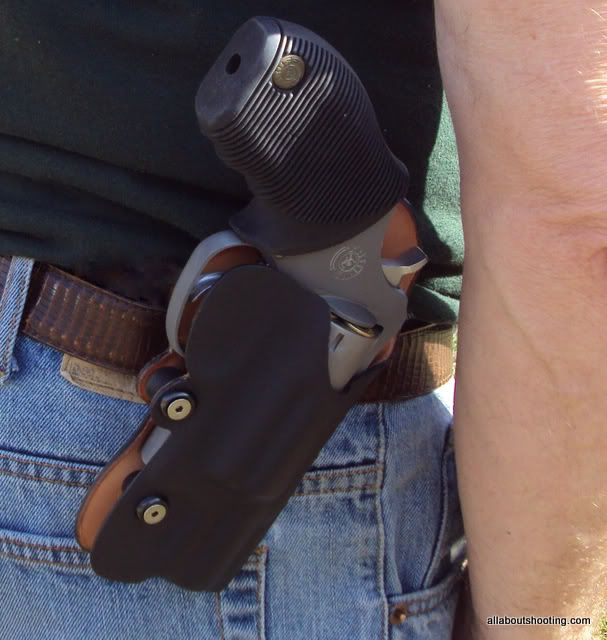 When I evaluate a holster, I want one that securely cradles my gun, that allows me access it quickly when needed and that is comfortable to wear. It never hurts that it also looks good!
I spend a lot of time at my range and managing the property that we own. I am outdoors a lot and like to carry a handgun with me when I'm out and about. Since I'm also apt to have someone stop by to visit, I like to be able to discretely carry that handgun.
Even though folks know that I'm all about shooting, I don't necessarily want a gun to be the first thing they see. Maybe just the second thing.
I also spend a good bit of time in my office, at my desk in front of a computer. The second part of evaluating any product is recording the results for a
"Product Test"
article, or to provide a manufacturer with my evaluation of his product. 
That means my time may be divided between inside and outside jobs on a given day. A holster that is comfortable and rides well is very important to me.
The Public Defender fit the new holster perfectly, right out of the box. I did not need to utilize the tension adjustment screws but I really like the fact that they are there. From past experience I know that things can change over time, with wear, and being able to adjust holster fit can be very important.
I examined the
Silent Thunder
and it lived up to all that I'd been told about products from Garrett Industries. It was top notch all the way. My gun fit just right, it looked good, and it was made with obvious care, now the big question, how would it ride on my hip?
You can adjust the holster for cant by loosening 2 set screws on the belt slide. I like a little forward cant, it's just what I'm accustomed to and that adjustment took just a couple of minutes. Next I slid it on my everyday belt and positioned it so that I could easily draw it with my right hand but also so that it would not be in my way in the course of normal activity.
Let me stop here for just a moment. The Public Defender Ultra-Lite, is a much smaller version of the Taurus Judge line. It has a shorter barrel and grip but it's still a revolver designed to fire .45 Colt Long cartridges and .410 shotshells. It's not a small gun. So, being able to position it so that it's accessible but not interfere with normal activity could have been quite a feat.
The design of the
Silent Thunder
made this much easier. This holster is about the same size as the gun, not much extra material or unnecessary bells and whistles. I'd define it as a "minimalist" construction and that's a good thing in my estimation.
The leather lining is "pre-boned" and perfectly contoured to fit the gun. I'd previously read just how well bonded it was to the Kydex so I did not bother trying to separate it. I like the idea that it makes the gun much quieter to draw and that it is much easier on the exterior finish of the gun as well.
My first test with a carry gun is to do just that, carry it. So, I strapped on the Public Defender in the
Silent Thunder
and carried it, as I went about my normal activities. Again, this is not a small gun but I did not find myself banging it into things and after a few hours it felt like any other part of what I wear each day.
If it's not comfortable to carry or if it gets in the way, a gun may be left on the dresser or in a gun safe. Either way, it's not handy if you should need it. This combination was a comfortable carry and did not get in the way. That was part #1 of my evaluation.
Part #2 of any carry gun evaluation for me is to see just how handy it would be if I needed to use it for some purpose other than decoration. Since no bad guys had showed up at my place, I went to the range to see how easily I could draw the Public Defender and get it into action.
No matter how a holster is manufactured, it's always seemed that each gun has its own exact fit needs. I did not however find that to be the case for the "marriage" of the
Silent Thunder
and the Public Defender. They hit it off right away. I found that the Public Defender was easily brought into action with one hand and after a very short time, without even thinking much about it.
I now feel that I have the "complete package". I have a well designed personal protection revolver, capable of firing some impressive loads and an equally well designed method of carry.
In a few weeks I'll give the
"What the Tuck"
IBH a workout and let you know how I feel about that mode of carry.
In the meantime, if you're in the market for a high quality carry rig, I'd recommend that you take a look at what
Garrett Industries
offers. If my experience is any indication, think you'll be pleased with what you see there. I'd also recommend that you give Ron a call to discuss exactly what your needs are. He's a very helpful fellow.
To read more
"Product Test"
articles, please visit
http://www.allaboutshooting.com