I visited the "Grand American Trap Shooting Championship", at the World Shooting Complex in Sparta, Illinois and spent some time with the folks from Remington. They were kind enough to lend me one of their new  Versa Max shotguns, give me some shells and allow me to take it to the trap range to shoot and evaluate this new shotgun.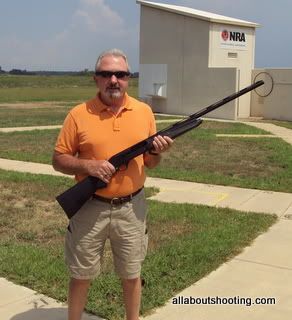 Before going to the range, I was able to tear it down and give it a good examination. I was especially interested to see the new gas system. This one has no rings or seals but uses a dual piston set-up to cycle the action.
The exterior of the pistons had some carbon present from the several hundred rounds that had been fired through the gun but you could easily work them and see that nothing was on the interior to inhibit function.
I shot a black gun with a 28" Pro-Bore barrel, back bored to .735 with a Briley choke. It felt very light,  balanced in my hands well and came to my shoulder quickly.
The recoil pad is a thicker version of the now familiar Remington SuperCell pad. The receiver is milled from a solid block of aluminum alloy, anodized and is drilled and tapped for scope mounting.
The Pro-Bore barrel is TriNyte coated with internal components nickel Teflon plated for corrosion resistance. The fire control unit is also an aluminum alloy, removable and the trigger was excellent, with no creep and quite crisp.
The World Shooting Complex has a 3.5 mile long trap field and this is "Grand Week" but I found an available field to shoot some clays. I shot 2.75" Remington
STS
1.125 oz. loads of #8 shot from the 20 yard line.
The Versa Max is a very light gun but when shooting 3 shot strings at clays, I felt no appreciable recoil at all. I went through a box of shells pretty quickly and managed to break more birds that I thought I might, shooting this gun for the first time.
Normally I like a very high comb on wing guns but the gun that I shot had the standard comb on it and it fit very well. Higher combs are easily installed on the Versa Max and will be an optional item.
The Versa Max is not yet in stores but is slated to be shipped on September 1st. That is a "hard" date, I was told. The folks at Remington understand that introducing a new gun, and then having to wait 6 months for it to show up at dealers is not a good thing, so they waited to introduce it until it was ready to ship.
The is a great looking shotgun. It balances well, comes to the shoulder quickly, and "shucks shells" as quickly as I could pull the trigger.
The Versa Max has many desirable features that shooters and hunters are looking for today. It looks like Remington has done its homework on this one!
It should be available at a dealer near you shortly after September 1st. If you're in the market for a versatile shotgun that can handle all shell lengths, I'd recommend that you take a look at the Versa Max.
You can see a video of the Vesa Max at
http://www.youtube.com/watch?v=mFCY4a5gB_Q
and read more
"Product Test"
articles at
http://www.allaboutshooting.com