One of two all-new and unique Kick-Out blinds for 2018 from Ameristep, the stealthy Deadwood Stump Blind combines a field-proven hunter-friendly wall-hub design with all-new patent-pending kick-out technology to create the realistic profile of a large, dead tree stump; the floor kick-outs taper out at the bottom, creating the amorphous yet familiar shape. Proprietary TRUBark HD camo completes the illusion.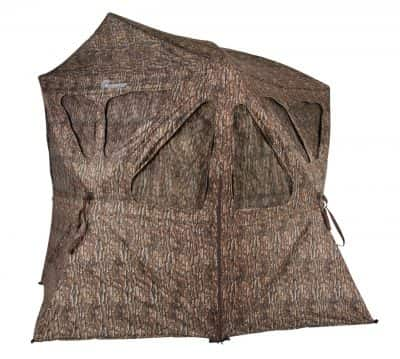 While Kick-Out technology contributes to the Deadwood's realistic and convincing shape, it also adds room, utility and maneuverability inside. The three floor kick-outs provide welcomed extra storage space for gear and equipment, which would otherwise be underfoot. Additionally, these unique floor kick-outs offer the extra utility of attached floors and sewn-in shelves. The efficient design also gives hunters improved access to Deadwood's versatile and inconspicuous windows, which are abstract in form to blend in better with the natural environment. Hunters can shoot directly through the replaceable mesh, or adjust the silent window covers to customize their viewing and shooting options without making a sound.
Up top, dual roof kick-outs add height to the Deadwood where it's needed most, creating a generous increase in headroom for standing and enhanced visibility. Even the blind's wrap-style carrying sling delivers value-added utility, serving double duty as a handy, hanging storage system.
Inside, blind's footprint is huge: 8-feet, 8-inches by 7-feet. The 6-foot, 3-inch shooting width allows ample space for up to three occupants to disappear against Deadwood's stealthy Shadowguard interior. The blind will be available later this year; MSRP is $279.99.