With the introduction of Heavyweight TSS (Tungsten Super Shot) to their turkey loads for 2018, Federal has made a very bold move. No other major shotshell company has ventured into this territory, which has been largely dominated by a relatively small group of hand loaders.
You can read about TSS in many places but the features that are most meaningful to the turkey hunter are the weight of the shot, 18 gr/cc, and  the fact that it's harder than steel.
Federal will load Heavyweight TSS exclusively in it's premium turkey shells in 2018 and  will no longer load it's 15 gr/cc Heavyweight shot in any of its shells. Since Federal "Heavyweight 7s" have been a real favorite of many turkey hunters, actual performance in the field will vital for the success of these new shells.
The new Flitecontrol Flex Wad will be featured in all but the .410 TSS shells. The original Flitecontrol  Wad was not recommended for use with ported chokes but the Flex Wad is recommended for both ported and non-ported chokes.
Federal provided me with a limited number of prototype Heavyweight TSS shells. I had 12 gauge shells with 1 3/4 oz. of #9 shot and .410 bore with  13/16 oz #9 shot.
I wanted to evaluate these shells as fairly and thoroughly as possible, given the limited number and understanding that they were prototypes. Federal assured me that while they were technically prototypes, the loads were identical to those of the soon to be introduced production shells. Hopefully, I will also have access to 20 gauge and 3rd Degree shells soon as well as the new lead Grand Slam shells.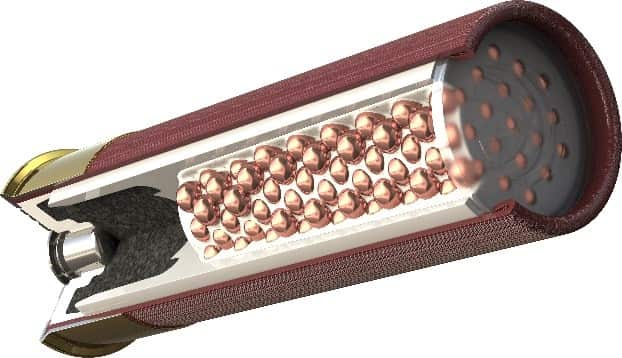 So, how did the Heavyweight TSS shells perform at the range? I used my standard "big paper" and affixed some Truglo "Tru-See" targets to the center of each sheet. These targets have a turkey head/neck centered in a grid, divided into 1" squares and hits are visible, even from 40 yards. They have an adhesive backing that makes applying them very easy. I could also flip that "big paper" over and circle the best 10" target on each sheet.
Starting with a clean bore on a BPS with a 26" barrel and not cleaning between shots, I averaged a bit over 280 hits within the 10" circle at 40 yards. Those numbers are slightly lower than those seen by Federal at their facility and I have no doubt that with more shells and some experimentation with different chokes, they could be considerably higher.
Patterns were dense with no gaps larger than 2" in any of the targets. Given the fact that the #9 TSS pellets retain more downrange velocity that a #5 lead pellet and due to their smaller size, have more penetration, they were definitely killing patterns.
The .410 TSS shells presented a more unique challenge for me personally. As a kid, I used a .410 shotgun for rabbits and squirrels because that's what my older brothers gave me to use. As soon as possible, I abandoned that gun for a 20 gauge and later a 12 gauge. A few years ago, I shot a lot of .410 ammo through a Judge revolver but I've never considered a .410 a turkey gun.
Looking at the diminutive .410 TSS shells did nothing to convince me otherwise. Less than 1 oz of #9 shot simply did not fit into what I considered a turkey load either. Frankly, I did not have high expectations for this shell.
Again, using "big paper", the Truglo Tru-See targets and a Stephens single shot with a 26" fixed choke barrel, I averaged 111 pellets in the target, at 40 yards. When I did my part, it would have been impossible for a turkey to have escaped the swarm of #9 TSS pellets. Again, given the energy and penetration of those pellets, that load is a turkey killer. The most remarkable feature however was the real absence of recoil, even with light single shot gun.
When I first heard that Federal was intending to load TSS in its turkey loads, my question was "Why?" Their #7 Heavyweight Shot shells had become a favorite of many, especially in the 20 gauge loadings. The Flitecontrol Wad had its supporters and it detractors but again, many hunters had learned how to make it work effectively.
After my evaluation and seeing the performance of the new Flitecontrol Flex Wad, I must say that "It's not your Grandfathers's Flitecontrol Wad." It's in another class all together.
This bold move by Federal to Heavyweight TSS, appears to be well thought-out and the products that I've evaluated perform very well. For even an old dog like me, they could indeed be a game changer.