Your self-defense weapon needs to be concealed; this way, no one will know you have a weapon with you. The Good thing about G26 and G43 is that they're compact pistols making them easy to conceal and favorable for those who prefer to carry their firearm secretly. However, when comparing Glock 26 vs. Glock 43, it might not be easy to choose which one to buy since they are so similar.
Therefore, if you are looking for a compact handgun that is easy to conceal and carry, we got you. We will look at the main differences between the two handguns so you can determine the best model for you. Read on!
Why Go for Glocks?
Gaston Glock is the mastermind behind this Austrian firearm company, Glock. He was an engineer when he began designing firearms. And though he had a lot of experience working with polymers, Glock was not an expert in the firearms market. Nevertheless, in 1990, Glock became popular, appearing in some of the best movies and TV shows.
The popularity of Glock pistols is attributed to them being durable and extremely reliable. Also, these pistols are among the easiest weapon to take down. In addition, they come in a simple design with few internal parts making them easy to modify, enhance and customize.
Furthermore, Glock pistols are lightweight since they are made of polymer. The pistols are ergonomic and feature a perfect grip angle, making shooting accurate. And the good thing is you will find these features in all Glock pistols. Plus, the pistols are virtually identical and perform identically.
Now that we know why Glocks are preferred, let's check out which is better; Glock 26 vs. Glock 43.
The Glock 26 pistol is popularly known as "Baby Glock" because of its small size. It measures 6.5 inches in length, 4.17 inches in height (including the magazine), and 1.26 inches in width. In addition, the barrel measures 3.43 inches long. Besides, it's sold in three generations, from Gen 3 to Gen5.
The size of the Glock 26 handgun is similar to that of a snub-nose revolver, although it is a semi-automatic pistol (9mm). You will love the large magazine capacity that this gun offers, which comes in a compact frame making it a great option for a backup gun for the military, law enforcement and self-defense purposes.
Furthermore, the pistol creates minimal recoil and great accuracy. It also features the firm's patented Safe Action system, which is handy in preventing unintentional discharges. Besides, though it's a small gun that you can fit in an ankle holster, it usually feels heavy and balanced when firing.
The Glock 26 features a universal Glock rail, allowing you to add accessories easily. In addition, you can use the same magazines for this pistol as larger pistols such as Glock 17 and Glock 19. Another good thing about the pistol is that it comes with a loaded chamber indicator.
The Glock 43 is one of the lightest and smallest single-stack pistols in the 9mm semi-automatic subcompact gun category. It measures 6.26 inches in length, 4.25 inches in height, and 1.02 inches in width. In addition, the barrel measures 3.39 inches long. Besides, it's a durable and reliable weapon that came on the market in 2015.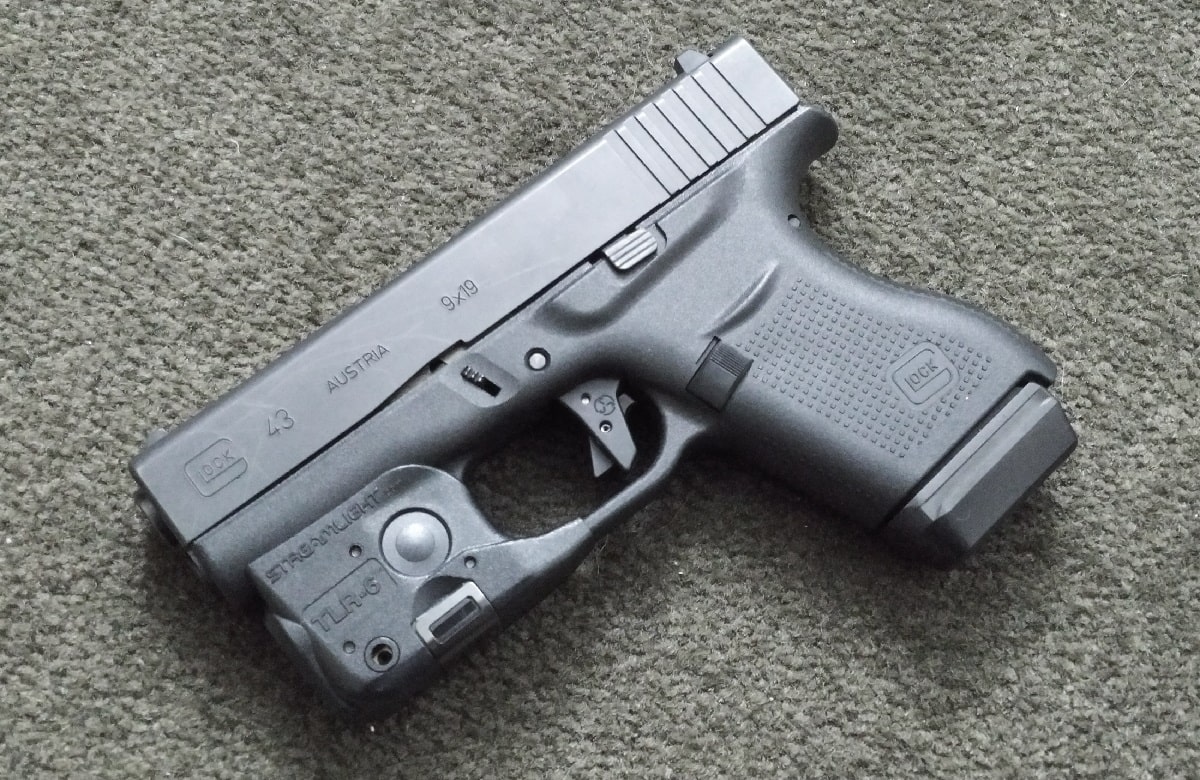 Glock 43 is ultra-compact, accurate, and an excellent option for all shooters, irrespective of the hand size. Conversely, the pistol model features a six-round flush magazine capacity and a seven-round pinky extension magazine for a shooter with large hands looking for a more comfortable grip.
Moreover, the grip of Glock 43 features a built-in beaver tail design that helps you have a high and tight grip. In addition, the pistol comes with a rough texture surface on the grip that allows reliable operation.
The Glock 43 has a narrower slide than other 9mm subcompacts counterparts, making it easy to conceal. And due to its small size, the Glock 43 is comfortable and perfect for concealed carry, such as in your jeans pocket, slim fits or in concealed areas on the body.
Glock 26 Vs. Glock 43: What is the Difference?
In terms of weight, the Glock 43 is lighter and weighs about 1.1 pounds. Besides, it has a width of 1 inch which is ideal for a low-profile pocket carrying option. Also, it does not print as much as the G26. Conversely, the Glock 26 has a more ammo capacity making it a better option for self-defense situations. Additionally, the G26's size and stability significantly reduce muzzle rise and recoil, positively affecting accuracy.
Let's check more differences between these two guns.
1. Magazine capacity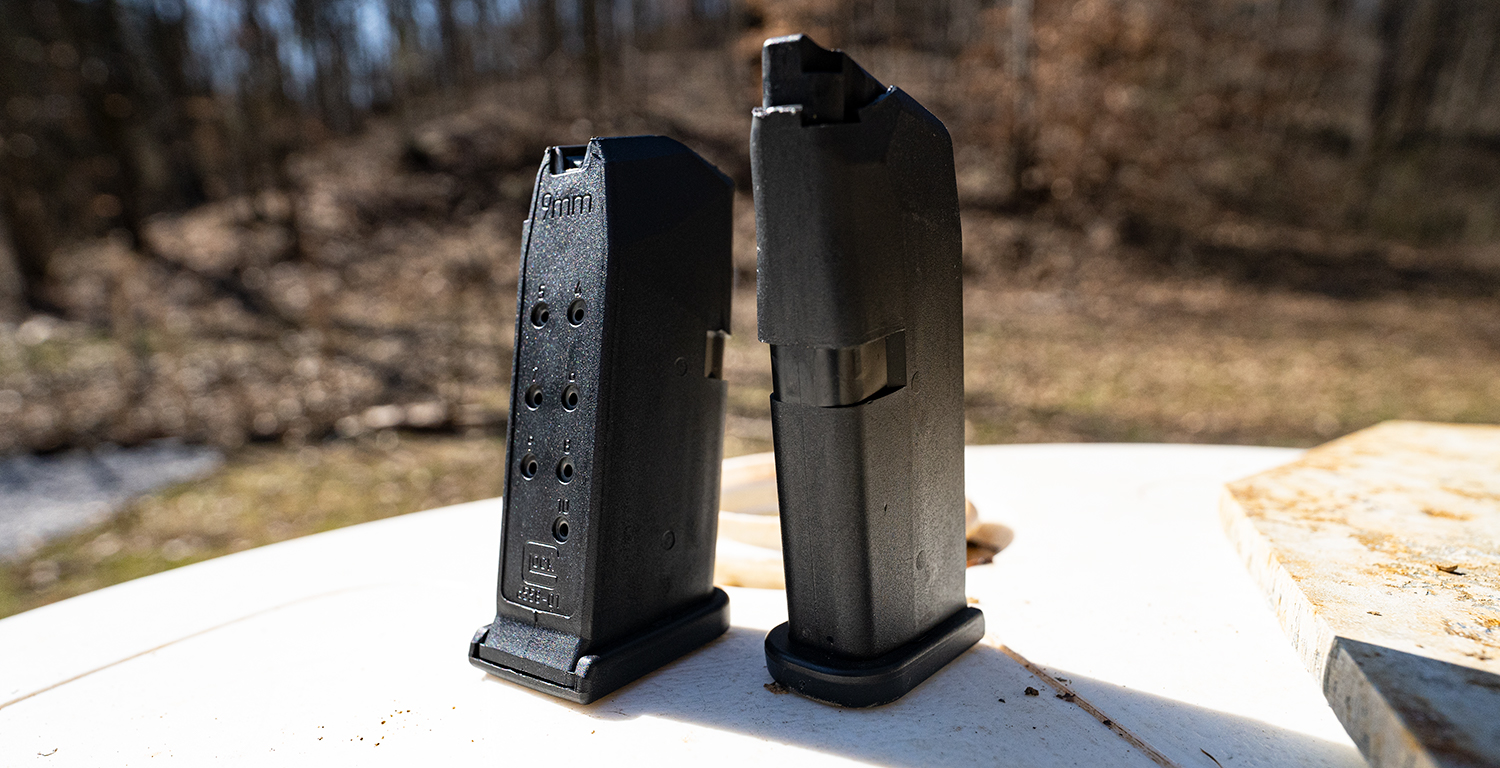 There is a difference in magazine capacity when comparing Glock 26 vs. Glock 43. The Glock 26 has a double-stack magazine; it can hold ten rounds. Conversely, the Glock 43 has a single stack magazine that can only hold six rounds. However, the difference in magazine capacity does not imply that one gun is better than another.
Although there are a few people who argue that you can never have enough ammo, we disagree. We believe your self-defense technique shouldn't be based on the number of ammunition. That said, while the extra bullets of the G26 may make you feel a bit safer, it might not make much difference (in our opinion).
However, you can opt to carry extra magazines if you feel that one isn't enough. In conclusion, though some people feel that magazine capacity is a vital consideration when buying a handgun, in our opinion, we believe it shouldn't be a big issue. Instead, go for a pistol that you can shoot accurately and feels comfortable.
2. Handling
In terms of handling, be assured that both pistols have excellent handling since they are small guns. There is very little difference in handling between these two handguns. Since the G43 is smaller than G26, you might find it a bit difficult to handle, but the G26 is small too, so you might not be able to tell the difference.
On the other hand, adding an aftermarket magazine to these handguns will change their handling. With such small handguns, the weight and size of a bigger magazine, and the number of bullets within, can make a significant impact. So it's important to keep that in mind when choosing between Glock 26 vs. Glock 43.
3. Reliability
Glock is a dependable firearm company that you can rely on. G26 and G43 are solid and durable so you can expect great reliable service. You can use even cheap ammo from yard sales, and the performance of the guns will be the same, with no jamming. With such achievement for small guns, we recommend either the G26 or G43 for a self-defense weapon. So, not much difference to note in terms of reliability.
4. Concealability
The difference is noticeable when comparing these two subcompact Glock handguns based on the concealability ( ability to carry the pistols concealed). The G43 is more concealable than the G26. That means you can conceal it more easily, and it will print less, depending on how you carry it. Besides, the thinner profile of the G43 allows it to easily disappear under virtually anything, even on your light clothing.
The G26 is also concealable, so concealing either of them won't be an issue. After all, these baby Glocks are compacts and can be easily hidden. However, if you love wearing light clothes, the concealability between these two handguns might be significant.
The G43 has a smaller frame than G26 making it possible to carry it in your pocket. However, we discourage carrying your Glock in a naked pocket because of the light trigger pull on them.
5. Accuracy
Regarding accuracy, both the Glock 26 and Glock 43 have a fixed front and back sight. This makes them perfect for close-quarter combat and accurate for self-defense from about the 15-yark mark. However, the G43 isn't preferable for accurate shooting at longer ranges. But it is easier to holster.
If you want to improve the accuracy of the Glock 26, you can invest in red dot sights like ArmaLaser Red Dot Sight, which comes with grip activation or Truglo Micro Red Dot Sight, which comes with an open reflex. Conversely, to improve on the Glock 43 accuracy, invest in the Night Sight Set which comes with a 3-dot tritium standard offering a great target acquisition.
6. Trigger & safeties
The good thing is that both the handguns come with a safe action trigger. However, though their mechanism runs smoothly, the Glock 43 has a smoother trigger and crisp break than the Glock 26. Besides, the G43 has a trigger reach of 2.56 inches, whereas the G26 has a trigger reach of 2.8 inches.
Both G26 and G43 systems feature two automatic fail-safe safeties; magazine drop safety and the firing pin. As a result, they always deliver a steady trigger pull. However, G26 has a trigger safety which is not available on G43. So, misfires are prevented more effectively with the G26.
7. Recoil
You might assume that since these two handguns are small than a full-sized 9mm handgun, they don't have the kick, but you're mistaken. Being lightweight does not help recoil management; therefore, expect quick jumps from both pistols. Pay attention to this, especially if you are a beginner shooter.
The Glock 26 is a bit bulkier than Glock 43, so it provides stability and usually manages recoil better. It also reduces the muzzle rise, allowing you to place the follow-up shots precisely and carefully.
To manage jumpy handguns, we recommend investing in the Federal 124-gr 9mm Personal Defence Ammo, the Hornady 115-gr 9mm Critical Defense Ammo or Federal Premium Ammo (124-gr 9mm). Conversely, we can conclude in terms of recoil management and shot placement, G26 is the winner.
8. Price
There is a notable difference in prices between these two pistols. If you go for a G26, you will pay about $610, while for G43, it will cost you $520. Though we had to mention the price, it's not very important; mentioning makes it feel like we are putting a price tag on your safety, and that's not the case—same case with single stack and double stack magazines. So comparing them makes little difference.
All in all, it depends on your personal preference as well as your budget for the handgun. The same thing with the magazine capacity; if you don't shoot frequently or are shooting at the shooting range for practice and you have all the time to change the magazine, a single stack magazine is enough.
Frequently Asked Questions on the Glock 26 Vs. Glock 43 Comparison
1. What makes the G26 the best Glock?
You can count on the G26 pistol for self-defense. It's popular among gun owners since it has a larger magazine capacity of 9x19mm compared to other small guns such as a snub nose revolver.
2. Is the G43 really good for home defense?
Yes, G43 pistols are great for daily individuals who need to concealable carry a firearm in public. Therefore, these pistols are one of the best for home defense in terms of mobility, firepower and discretion.
3. Which is better, G43 or G43X?
G43 and G43X have many recoils, and the slides are virtually similar. The main difference is that G43X has a larger and longer grip. Conversely, the G43 will fire similarly to the 43X if you decide to add a plus-two extension to it.
4. Is a G26 a good weapon?
G26 has a large magazine capacity and a small frame that's easier to conceal. So, yes. It's an ideal weapon that you can rely on.