Glock 9mm models are undoubtedly one of the best self-defense weapons, which are renowned for their reliability and their pistol design makes them suitable for concealed carry. Moreover, they are the best self-defense tools you can add to your collection since they are adaptable and versatile to serve you well in almost any situation and environment.
However, what is the best Glock 9mm model for you? This article will guide you on each Glock pistol to help you make a premium choice for your gun collection.
What Are the Glock 9mm Models?
Glock, founded in 1963 by Gaston Glock, is a premium semi-automatic self-defense pistol manufacturer. What is remarkable about the Glocks is that Gaston Glock didn't know anything about pistol designs. It is popular among many gun enthusiasts and is chambered to fire one of the oldest and most popular types of ammunition, the 9mm Luger (9x19mm) rounds.
Glock 9mm models can be subjected to external stresses such as extreme temperatures, blunt force connections and water submersions. However, no external stress will stop a Glock from accurately firing, making them super reliable in most hostile situations.
What Are the Different 9mm, Glock Models?
With plenty of Glock models on the market, it cannot be easy to know which one to choose. Therefore, it's important to understand the different options available and also the differences between them.
1. Glock 17- Best All-Around 9mm Handgun
This is the original handgun the Glock company manufactured for the Austrian Army in 1982, and there is always something remarkable about the classics. The G17 is no exception; it solidified the popularity of synthetic-framed striker-fired pistols in the service and civilian arenas.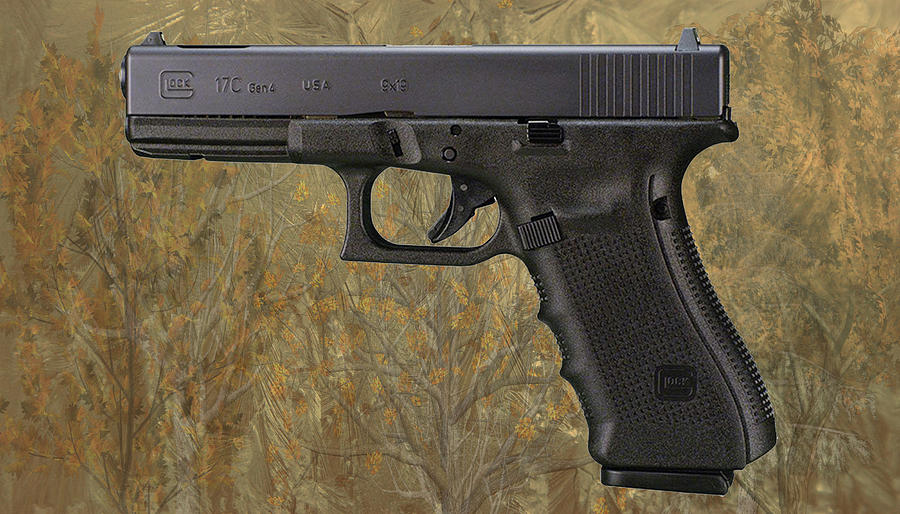 Image Credit: fineartamerica.com
The Glock 17 pistol is a law enforcement favorite since its designed for professionals. The pistol is easy and quick to use and thus among the most loved and endearing Glock pistols, you will ever find on the market. The Glock pistol comes in a standard size of 9mm, offering great handling, accuracy and a comfortable shooting experience.
Glock 17 has a standard magazine with ample 17 rounds; when the gun has a fully loaded magazine, it weighs about two pounds. Its total length is 8.03-inches, where the trigger pull needs 28N or 5.84 pounds of force.
2. Glock 19- Best for Concealed Carry
Glock 19 9mm model is the descendant of the Glock 18, which was fully automatic and versatile enough for use in almost all situations. It is the closest you will be able to come to the G18's full auto in terms of fire rate. G19 was not the first Glock pistol manufactured by Glock but has become a top standard for 9mm handguns in the whole gun manufacturing industry.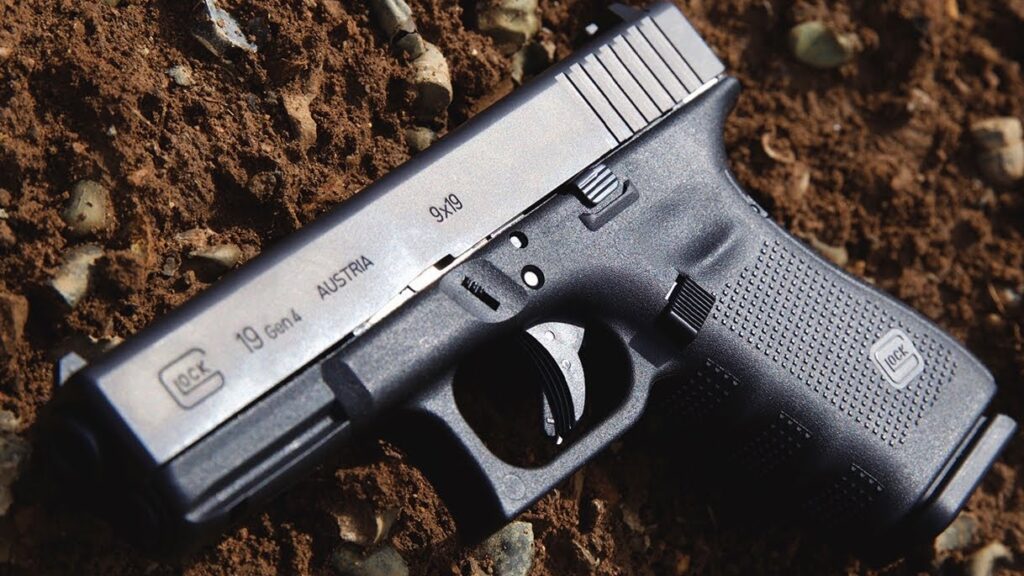 Image Credit: 19fortyfive.com
The pistol is compact, making it an ideal concealed carry and its dimensions allow it to be discreet and securely fit. The firearm has a slide and a barrel that is 7.36-inches long, with the weight with a loaded magazine being about 2 lbs. In addition, it has a backstrap system allowing interchangeable grips to be swapped around to find the best fit and a reversible magazine release making the pistol ambidextrous.
Since it is a lightweight weapon, it can be carried for long periods without causing fatigue. Lastly, the trigger pull needs 28N of force and packs an ample 15+1-round magazine capacity.
3. Glock 19X- Designed for Military Purposes
G19X has been branded as the first Glock's ever Crossover pistol, which is suitable for both an open carry and a concealed carry gun. Although it's a compact pistol, it is designed as a Crossover pistol since it combines the Glock 17 and Glock 19. It has the Glock 17's full-size frame and Glock 19's compact slide but a slightly longer barrel of 7.44 inches with a 5.47 inches height.
Image Credit: gunsweek.com
It has the standard 17+1 magazine capacity like G17 and G19, and like the Glock 17 model, it can have the 19, 24, 31, and 33-round magazine. However, one of Glock's most unique features is its coyote tan color, and it also has an nPVD coating that helps prevent corrosion.
Lastly, the G19X model has standard Gen 5 features such as ambidextrous slide stop levers, match-grade polygonal Glock Marksman Barrel and a Safe Action Trigger system.
4. Glock 26- Subcompact Design Suitable as a Backup Gun
G26 is a unique subcompact Glock, also known as Baby Glock. It was Glock's first subcompact pistol meant for civilian concealed carry, where it's super slim and lightweight.
G26 has a small frame, but it doesn't minimize the efficiency or accuracy, making it one of the most respected models. In addition, it lacks a significant spring assembly which boosts the shooter's accuracy allowing shots to be fired in rapid succession.
Image Credit: Patriot Action Corner
Moreover, Glock 26 can hold a lot of ammunition for a subcompact pistol with a magazine capacity of 10 rounds for the standard model. However, other G26 variations can hold up to 12 rounds.
G26 has a short 3.43 inches barrel length, and the trigger pull will need 28N of force, where the total gun length will be 6.5 inches.
5. Glock 34- Designed for Long-Range Accuracy
Glock 34 is a competitively-sized pistol with a long slide and barrel making it super accurate. However, it's not suitable for concealed carry because of its size, but it qualifies as a perfect size as a home defense weapon.
Image Credit: Quora.com
Although this Glock is mostly used and found in the world of shooting sports but is also liked by SWAT teams, it is a great tactical solution to add to your home defense weapons.
G34 has a standard magazine capacity of 17 rounds, with a fully-loaded magazine weight of about 2 pounds. The total barrel length of the gun is 8.82 inches, and the trigger pull needs an easy 24N or 4.44 pounds of force.
6. Glock 43- Suitable for Pre-cut for Your Choice of Red Dot Sight
G43 is a single-stacked variant on the Glock 26, and it's the best choice for shooters who want more space on their grip but still with a lightweight feel and slim frame. This is one of the Glock pistols that can withstand high levels of wear and tear like with the large predecessors while still maintaining high accuracy.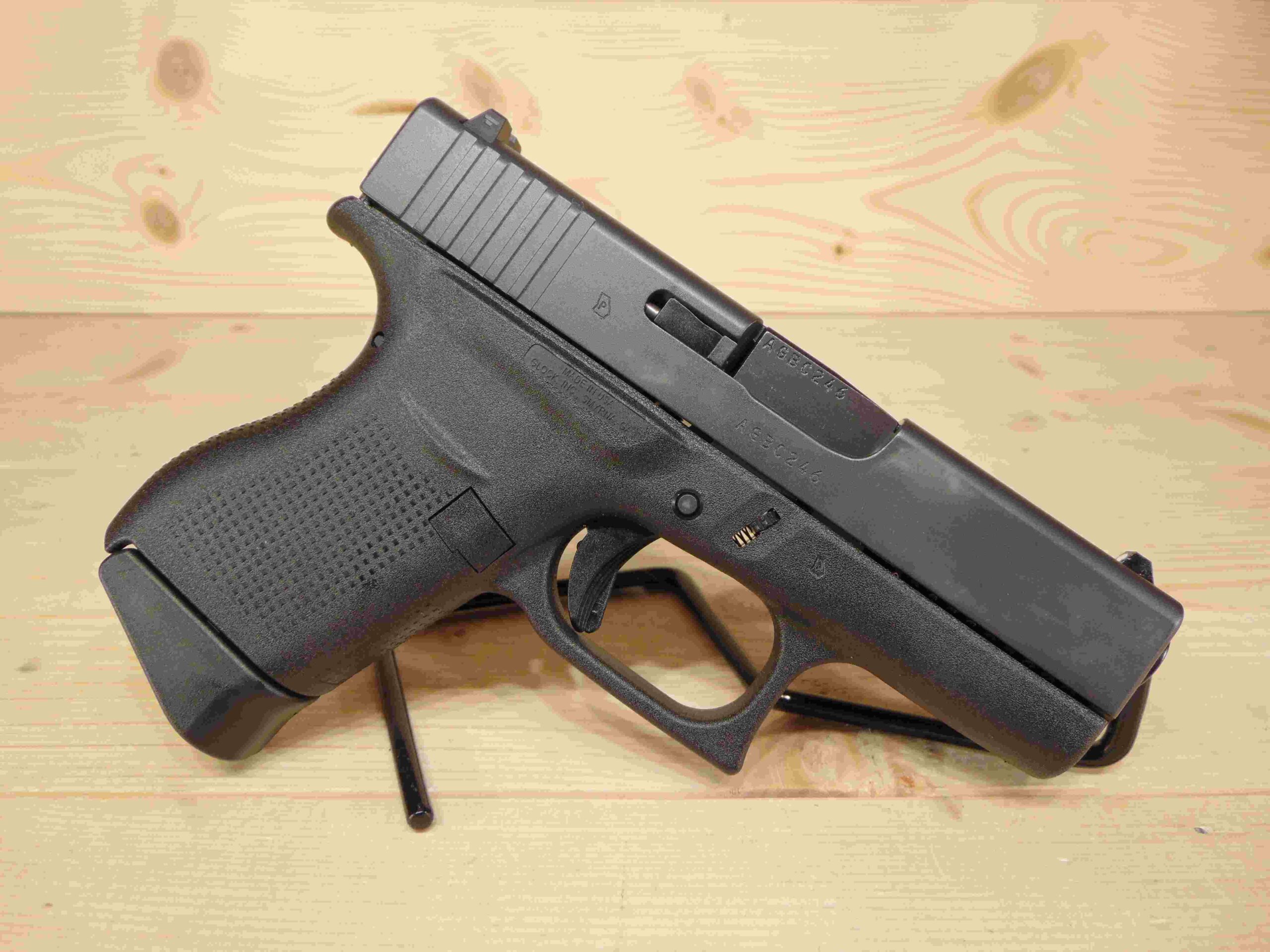 Image Credit: adelbridge.com
Glock 43 has a specially designed grip with an aggressive texture to ensure a comfortable shooting experience. The total barrel length is 6.26 inches, and it weighs slightly over one pound with a fully loaded magazine. The standard G43 model holds six rounds, but its extended variants can hold up to eight rounds.
7. Glock 43X- Best for Short Trigger Distance
G43X has all the features of the Glock 43 but with a longer grip. It is 6.50 inches long, 1.10 inches wide, and 5.04 inches high and includes the standard 10-round mag. While larger than the G43, it is still a compact Glock with a Slimline frame and an nDLC-finished slide.
Image Credit: 19fortyfive.com
Glock 43X has an improved accuracy thanks to the reversible magazine catch, built-in beavertail design and short trigger distance. This Glock pistol is perfect for gun owners shopping for a compact model with a high magazine capacity.
8. Glock 45- Designed for Police Duty Carry
G45 is a full-size Crossover compact frame with a compact G19 slide where if you liked the Glock 19X, you would love the sleek black matte finish of the Glock 45. It is slightly heavier than the Glock 19 X, but it will have all your favorite features, including a 17-round magazine capacity which can expand to 19, 24, 31, and 33 rounds.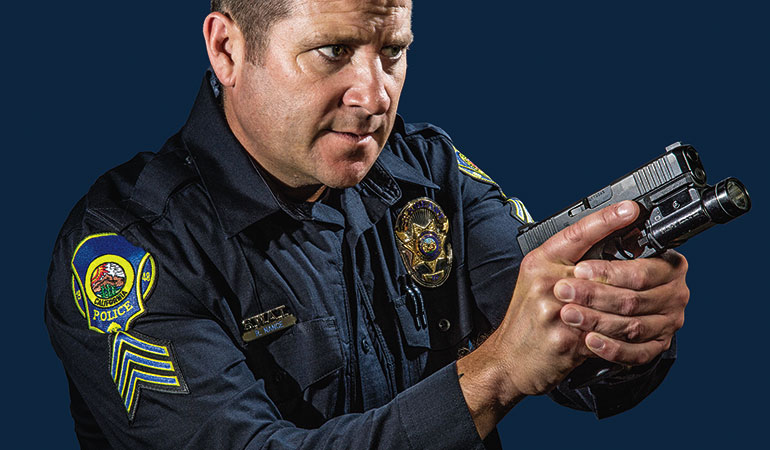 Image Credit: gunsandammo.com
Glock 45 has a barrel length of 4.02 inches with an overall length of 7.44 inches and a width of 1.34 inches, and 5.47 inches in height. G45 is a great alternative if you are not impressed with the G19X finish since it offers all the Gen 5 features.
9. Glock 48- Better Sight
Image Credit: trusttrade.com.ph
G48 is one of Glock's newest pistols, and with a compact Slimline frame, it is suitable for concealed carry. The model also has a better sight picture and improved muzzle velocity than the previous models.
Glock Model Examples (BB Guns)
1. Glock 19 Gen3 .177 Caliber BB Gun Air Pistol
Sale
Umarex Glock 19 Gen3 .177 Caliber BB Gun Air Pistol
15-Shot, .177 Caliber Bb Air Pistol
Powered By A 12-Gram Co2 Cartridge (Co2 Not Included)
Shoots .177 Caliber Steel Bbs At Up To 410 Fps
Integrated Weaver Rail For Easy Mounting Of Accessories
Fixed Glock-Style Sights And Officially Licensed Glock...
Glock 19 air gun is produced by Umarex and features a 4.25-inch barrel with an overall length of 7.25 inches, creating a frame weighing 1.6 pounds. It is powered by a CO2 (gas-piston) cartridge, which allows you to fire many rounds without worrying about a cartridge swap.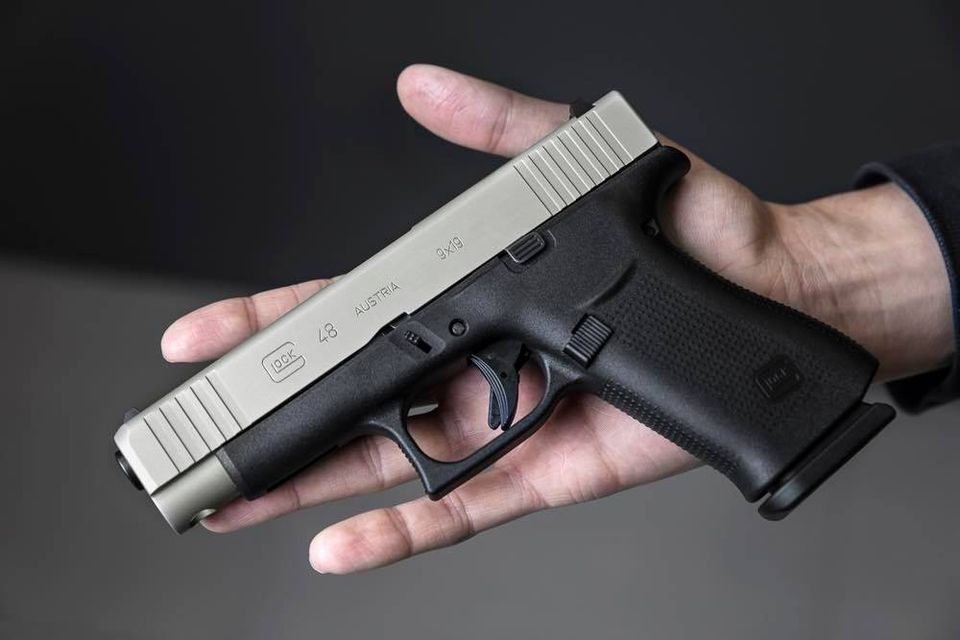 Image Credit: Umarex
It has Glock-style sights to make it easy to see your target, and the magazine release button feels like a genuine design with 16-round Glock magazines. The G19 BB gun also includes a Weaver accessory rail which allows you to mount a laser sight to overcome the problem of non-adjustable sights.
2. GLOCK 17 Blowback .177 Caliber BB Gun Air Pistol
Glock 17 is an iconic revolutionized handgun that has been in the industry for decades used worldwide by military and law enforcement officers. GLOCK 17 Blowback .177 air pistol boasts an enhanced grip texture that functions similarly to the original Glock 17.
This BB gun is just as sought after as the original one, which includes all the features you want in an air pistol. An easy-to-change 12-gram CO2 capsule powers the gun and launches .177 steel BBs at 350 FPS.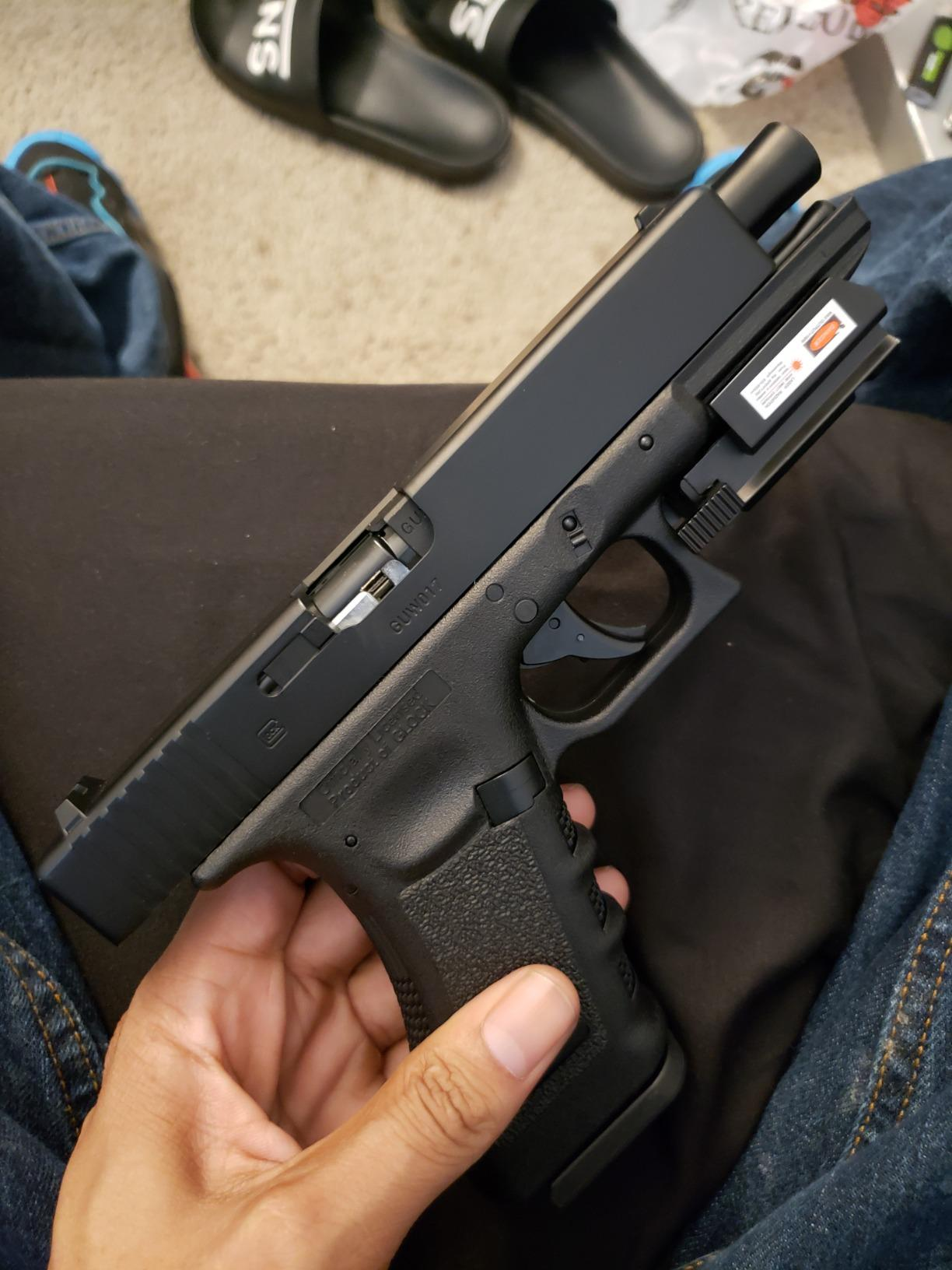 Image Credit: Umarex
The Glock 17 BB gun also comes with an 18-round drop safety magazine that houses the power source. In addition, it is a fully licensed product of GLOCK and will ensure you get the most out of your training session, thanks to the realistic blowback slide action.
3. GLOCK 19X Half Blowback BB Pistol Airsoft Gun
Sale
Like Glock's recent models, G19X provides shooters with a good grip and a short-length slide to give a successful recipe. Its accurate, quick handling and full-size handgun capacity have proven to be a winner. This GLOCK airsoft pistol is made with genuine features that will feel familiar to fans of the popular brand.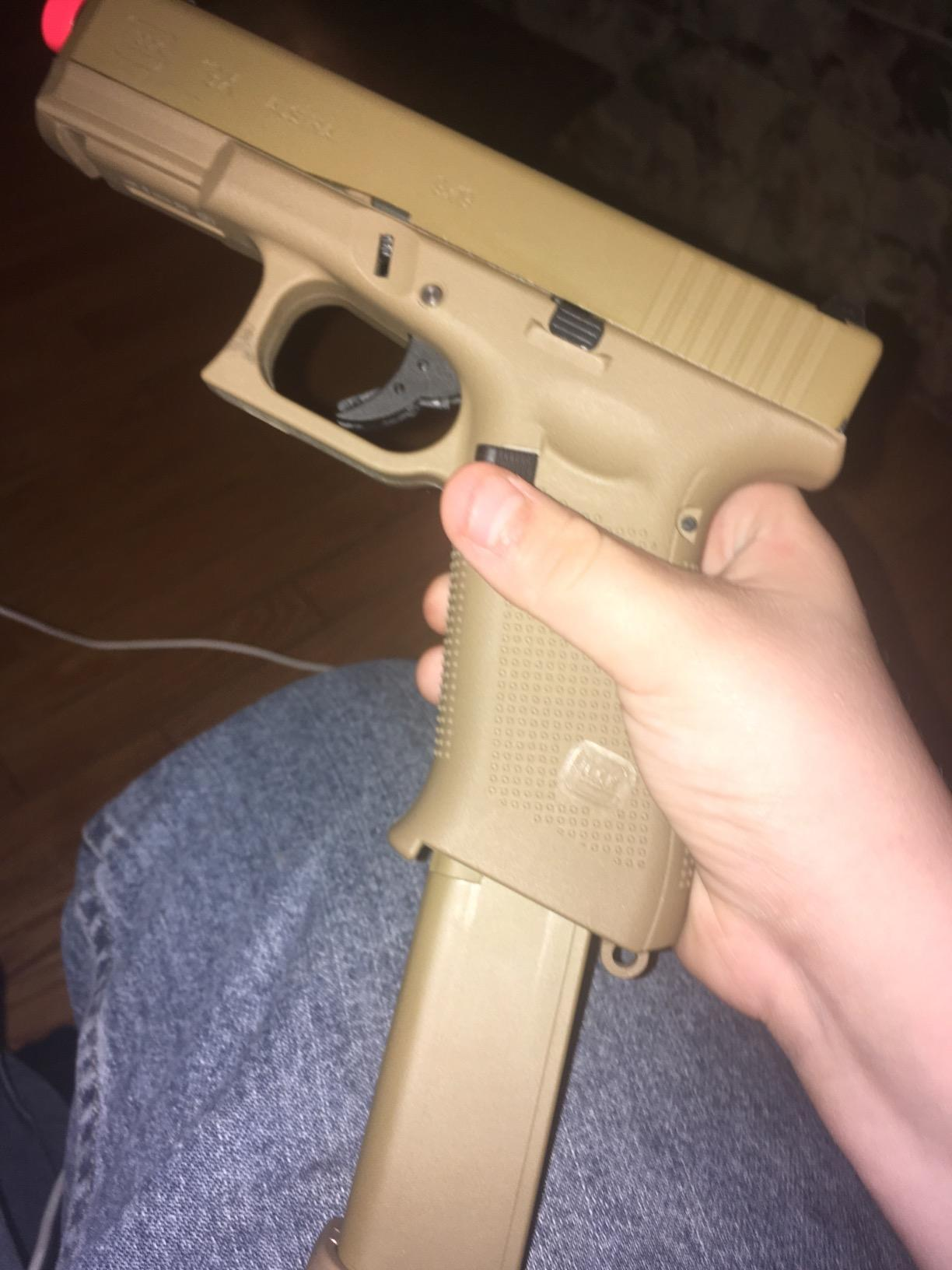 Image Credit: Umarex
It is built with a metal slide and durable polymer frames, which have been made to feel and function like the original ones. G19X BB gun launches .20 gram airsoft BBs at 300 FPS, and it also holds 14 rounds of 6mm BBs in the drop-free full-size magazine.
Thanks to the realistic blowback action, you will get a realistic shooting experience making it perfect for muscle memory and training. Lastly, the G19X is the perfect solution for new or veteran airporters.
What is the Difference Between Glock Generations?
Image Credit: aliengearholsters.com
When considering the purchase of a Glock, you will need to understand the Glock generations and their order. The term "Generation" is Glock language equates to other companies bringing out the "Mod 2", "2.0," a major overhaul of the gun's features.
The feature changes, also called upgrades, could be several small ones, a few big ones, or a combination of small and big changes to qualify to become the next generation. Below, we have listed the generations from the original Glock to the newest generation at the moment:
a). Generation 1- 1982
Image Credit: glocktalk.com
This is the original Glock Model 17, and it can be identified easily since it lacks texturing or stippling on the frame and doesn't have finger grooves. The Glock was used by the Austrian military in 1983 when they placed an order for 25,000 pistols. The Glock pistols were technically machine pistols, so they were subject to fees and regulations imposed on machine gun ownership.
b). Generation 2- 1988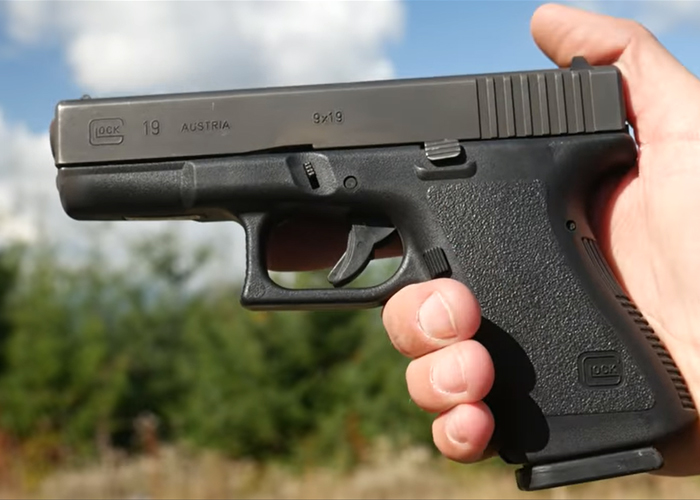 Image Credit: popularairsoft.com
Since every generation is an update or upgrade of the previous, check out the additions with Gen 2, including:
Added a stippling on the front and back straps and trigger guard
An integrated recoil spring assembly to replace the original two-piece spring and tube
An embedded serial number on the steel plate in front of the trigger guard
Modified the magazine's floor plate and follower
c). Generation 3- 1998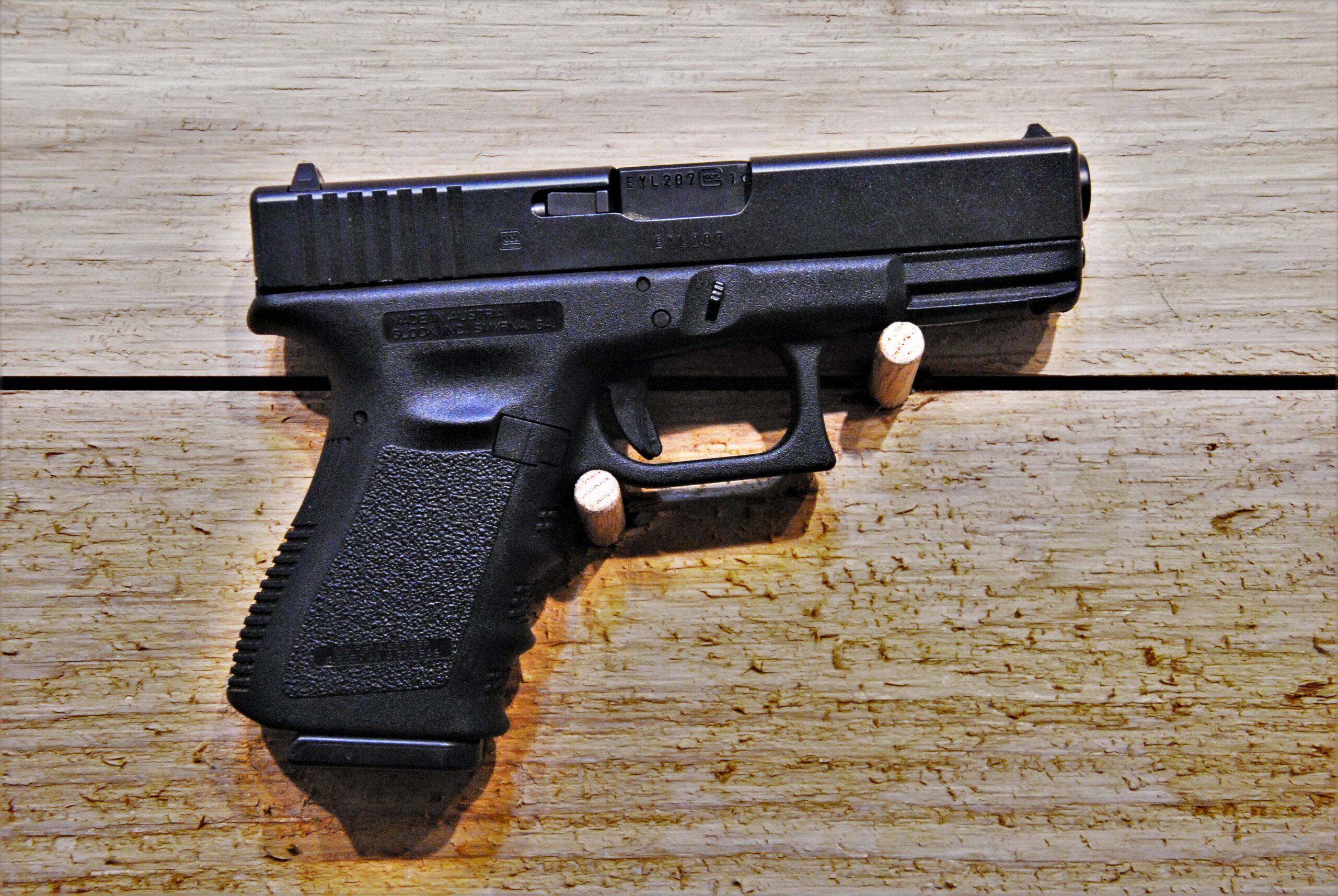 Image Credit: adelbridge.com
With Gen 3 came additional updates such as:
Adding an accessory rail (Universal Glock Rail) to the frame
Finger grooves on the grip strap's front
Enlarged and reinforced locking block pin
Addition of thumb rests on both sides of the frame
The later 3rd Gen models incorporated a modified extractor to serve as a loaded chamber indicator
d). Generation 4- 2010 at the Shot Show
Image Credit: eaglegunrangetx.com
4th Gen had updates such as:
Rough textured frame, interchangeable backstraps and grip checkering
Use of a dual recoil spring assembly with frame modifications and a corresponding slide to allow for the larger spring assembly
Gen 4 is roll marked on the slide
Updated ergonomics and the recoil spring of Glock 17 and 22
Large and reversible magazine release for the left-handed shooters
Shorter grip frame (trigger reach)
Modified magazines with cuts on both sides to allow the reversible magazine release
e). Generation 5- 2017
Image Credit: handgunsmag.com
Release of Glock 17 and Glock 19 in Generation 5 version
A new gun finish of an nDLC (nitride diamond-like coating)
Incorporated the Glock Marksman barrel, which is a match-grade barrel with a new polygonal rifling
Removal of finger grooves on the frame
Introduced a deeper barrel crown
Well-flared magazine
Modified magazines
The slide stop lever was made ambidextrous, so it appeared on both sides of the gun.
Additional reliability and ergonomic enhancements
An added half-moon cut in the front of the grip frame to facilitate extraction of stuck magazines.
Removal of the locking block pin above the trigger pin
Why Are Glocks Popular in the Market?
Glock 9mm models have almost a 65% market share in the US, making the model a celebrity in the gun world. It is the preferred pistol for civilians and law enforcement, and the Glock is known for spending effort and time to work on how printable the pistol will be.
Pointability is the pistol's natural ability to be like an extension of the shooter's hand and eye coordination. Therefore, the user-friendliness, high pointability, and high accuracy in shooting the Glock have made the pistol much easier to aim than competitors.
In addition, Glock has been reinforced in public through the popular culture from the 1990s in movies and TV shows. For instance, in Die Hard 2, the actor Bruce Willis gives a long speech on the many Glock advantages and also the Glocks also feature in popular hip-hop music.
What to Consider Before Choosing a 9mm Glock Model
1. Concealed Carry vs. Open Carry
When choosing the best 9mm Glock models, one of the most important factors is whether you want to conceal or open carry your pistol. This decision on the best way to carry will be heavily influenced by why and how you will be using your firearm.
a). Open Carry
Image Credit: reddit.com
One of the major benefits of open carry is how easy it will be to access your firearm in an emergency. If you decide to use concealed carry, there are techniques you can practice to quicken your drawing time. However, an open carry holster will be generally faster to draw.
b). Concealed Carry
Most holsters for concealed carry place the gun directly against your skin which can get uncomfortable. Open carry will give a user a more comfortable fit as it moves the gun away from your body. The size and designs of some 9mm Glock models make them ideal for concealed carry, including:
Search for the slimmest, compact and lightweight models for concealed carry
If you want to carry a Glock openly, opt for a larger pistol with a large magazine capacity meaning it will new fewer reloads
The best-concealed carry models designed for this specific purpose are Glock 19, 26, 43, and 48.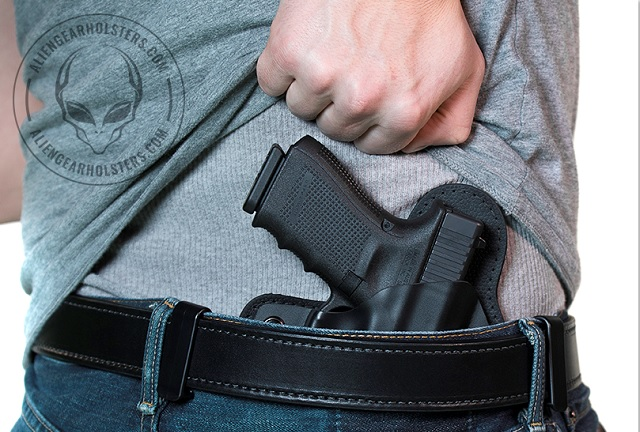 Image Credit: aliengearholsters.com
Before deciding, check the legal restrictions in your state since some states have a constitutional carry, meaning you can legally carry a handgun with no permit or license. However, some states require restrictions or permits on who can carry a firearm and how it should be carried.
2. Calibers and Sizes
Glocks come in various calibers and sizes. To better make a choice, you will need to understand the different caliber options available to gun owners looking to buy a Glock
a). 22 LR – G44- The Glock 44 is a super-compact pistol option, and it's the first Glock to chamber a .22 caliber round, making it suitable for learning and training.
b). 9×19- This is the classic golden caliber where it features the Glock 17, 19, 26, 34, 43, 45, and 48. In addition, all the following variations and generations will also fall under this caliber.
c). .380 Auto – G42- This subcompact pistol is perfect for shooters looking for a small 6-round pistol.
d). .357- It includes the models 31, 32, and 33 and their subsequent generations and variations where the Glock 32 is compact and the Glock 33 is a subcompact.
e). .40- This caliber has models such as 22, 23, 24, 27, and 35 but also their subsequent generations and variations.
f). .45 Auto- This caliber has 21, 30, 36, and 41 models and subsequent generations.
g). .45 G.A.P.- This caliber includes the models 37, 38, and 39.
h). 10mm Auto- This caliber has 20, 29 and 40 models.
3. Action Type
All Glock 9mm pistols are either single or double-action, which means the number of actions a single trigger pull can perform.
Single action pistols only fire when you pull the trigger, and when the hammer is released, it starts a chain reaction causing the bullet to leave the barrel. These are the landscapes of striker-fired pistols, with lighter trigger pulls, meaning less weight on the trigger to squeeze a shot. Also, you will have to pull the hammer back manually between every bullet.
Image Credit: personaldefenseworld.com
On the other hand, double-action pistols perform two actions where they pull the hammer back and release it to fire a bullet. They need more finger pull, but they may allow you to release rapid-fire since you don't have to pull the hammer back yourself each time. These Glock pistols are suitable for home defense or concealed carry.
4. Grip Quality
Many Glock 9mm models come with excellent grips, ergonomic shapes, or textured surfaces. The textured surfaces are beneficial because they make holding the pistol easier even with a sweaty palm.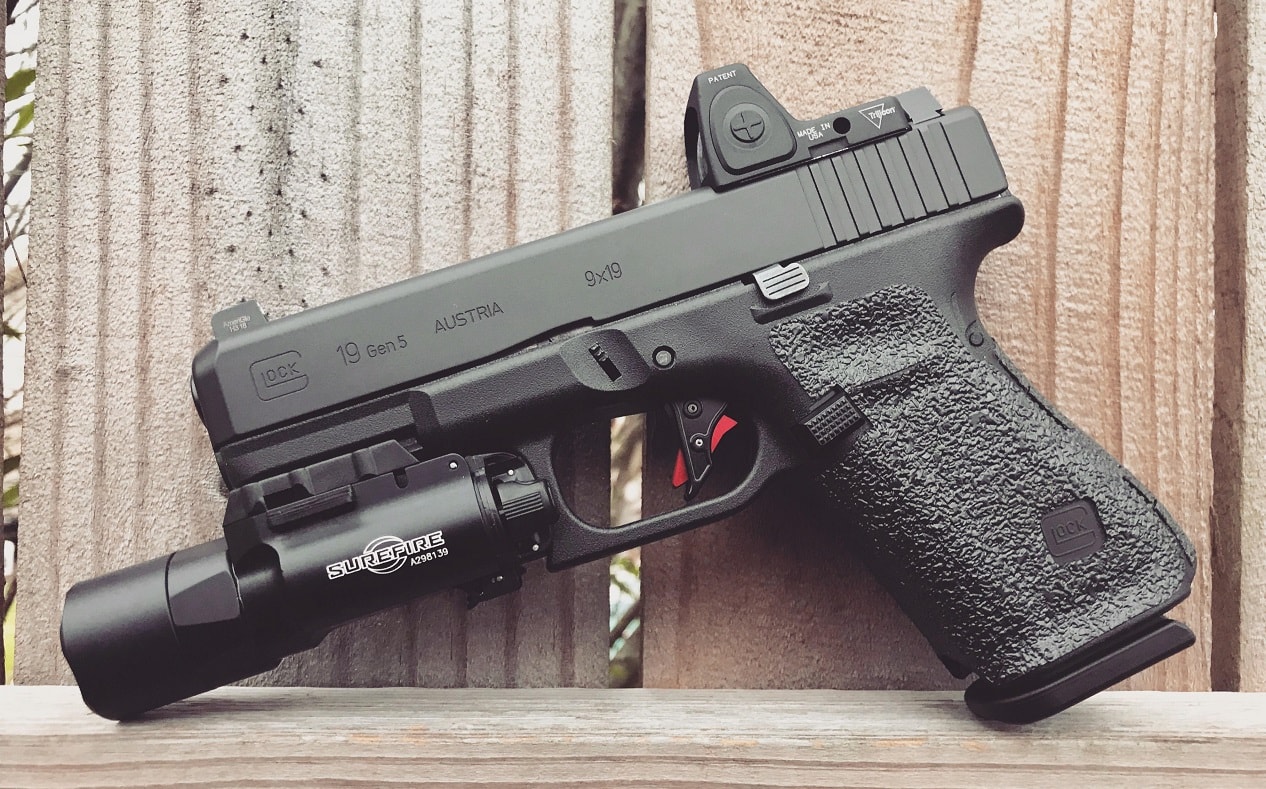 Image Credit: 19fortyfive.com
Also, ergonomic shapes are more comfortable, preventing your hand from cramping. This is especially useful if you have to hold your 9mm Glock for long sessions at a gun range.
Lastly, some models have removable, replaceable grips to achieve a customizable shooting experience, and they can improve the hand control, feel and comfort.
5. Optics Support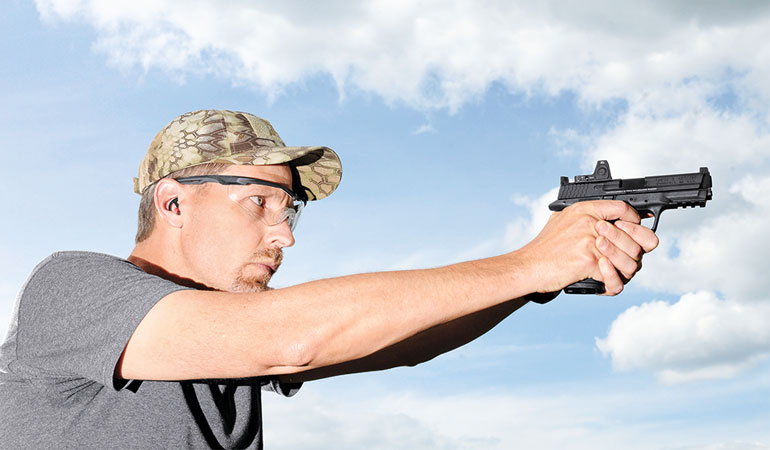 Image Credit: gunsandammo.com
Check if your Glock pistol has any iron sights straight from the box because sights allow you to hit your target better even at a distance. Also, check if the front and rear sights are adjustable, which will allow you to compensate for different variables. Finally, the fixed day and night sights help increase lighting situations where your pistol sights remain useful.
6. Rail Space
Check whether you need a 9mm pistol with a mounting rail where some pistols allow you to have new attachments such as red dot sights and other optics beneath the barrel or on top of the pistol. However, other Glock models lack this functionality but have affordability.
Conclusion
Glocks are well-known for their durability, dependability, accuracy and consistency, so it's no surprise that 9mms are popular in gun stores. However, with so many Glock 9mm models, there is something for every purpose and need for users looking for a quality new gun that will last a lifetime. Whatever the reason you are shopping for a Glock model, this article will help you narrow down your prospective choices.
Image Credit: hickok45